Before we get to the scoop, remember the Scoop on Fall Vignettes Tour is coming up this Friday.  I'm pretty excited since this is the first tour that we "scoopers" have organized.  And boy did we get some fabulous blogs to join us.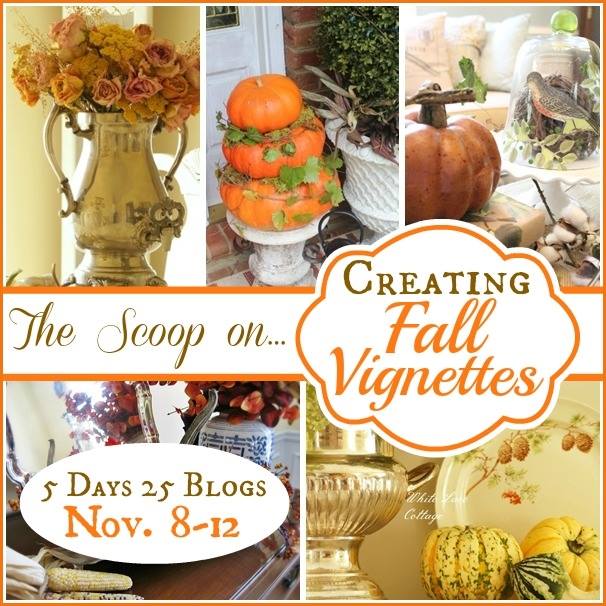 Here is the schedule.
Friday Nov 8 
Back Porch Musings 
On Sutton Place 
Sophia's  
Chateau  Chic 
Confessions of a Plate Addict


  Saturday Nov 9 
Cedar Hill Farmhouse 
Town and Country Living 
A Stroll thru Life 
Mom 4 Real 
Setting for Four


  Sunday Nov 10 
Savvy Southern Style 
Hymns & Verses 
Lilacs & Longhorns 
Marty's Musings 
White Lace Cottage


  Monday Nov 11 
Stone Gable 
The Everyday Home 
Our Southern Home 
At the Picket Fence 
My Soulful Home


  Tuesday Nov 12 
Top This Top That 
Inspiration for Moms 
All Things Heart and Home 
Domestically Speaking 
The Farmhouse Porch
Now onto this week's party.
Welcome my friends to The Scoop.
The weekly link party featuring the scoop on the best posts
from around the web!
More exposure + less time = win win!
We are
Linsey from Farmhouse Porch,
Debbie from Confessions of a Plate Addict
Anne from White Lace Cottage
and Barb from The Everyday Home.
Hi Everyone!
I am Barb with The Everyday Home and I am your
Co-Host this week.
Last week, I went to the Country Living Fair with my
dear friend and fellow Blogger, Debbie with
Confessions of a Plate Addict.
Over the weekend, we also went to some of Deb's favorite
"Goodwill Hunting" sites, and best of all – she took me to
the "Queen of Hearts." An antique and vintage store she has
been blogging about for years.
It was amazing!!!! From the moment we walked into the door,
there was so much to see. (and so much I wanted to buy)
It was a mix of treasures, from vintage to antique to
English to farmhouse.
But one of *THE* most jaw-dropping amazing sights I have
ever seen inside any antique shop…and I have been thru antique
shops all over this world – is this…
Oh, but wait – there is more…
Two large booth spaces filled to the brim. All along the floor
and in every nook and cranny there was available.
I was told that this humongo collection is owned by one
single woman. And her house is filled with much, much
more. I'd like to be best friends with her.
I will share more of our visit to the "Queen of Hearts" this week,
but for now – I have the pleasure of introducing this week's
Guest Host. Please welcome the super sweet
Sheila from the blog Plum Doodles.
Sheila has chosen some fantastic features
from last week's party…so I'm going to say welcome
and turn it over to her.
Hellooo, fellow Scoop-ers! I'm Sheila from
where I offer a "doodle of fun, faith, and furniture." I am thrilled
and honored to be a guest host here with all these awesome ladies.
I love to rescue old outdated furniture and décor and
repurpose or update it with a little paint, a little embellishment,
or a total rebuild. I often use graphics to update my projects,
so I also sell my own graphics transfer medium called Doodle Magic.
Check out my DM Projects Gallery for fun ways to use it.
So, let's see what you all served up this week.
It is nearly impossible to choose features, so I decided to
narrow it down according to "my favorites" categories. If you
spend any time at all with me or my blog, you know I love
chocolate. So, how could I possibly pass up
Death by Triple Chocolate Cupcakes from
Home is Where the Boat Is?!
Go check out the recipe, if you dare- bwahahaha!
Puns are one of my favorite kinds of jokes. You may groan
(the sign of a good pun), but you won't be disappointed with
Thinking Closet's 20 Punny Halloween Costume Ideas.
I have created many projects using the oh-so-thrifty drop
cloth, but The Turquoise Home's Painted Drop Cloth Curtains
take it up a notch or seven with stripes. I likey!
Beautiful fabrics are a weakness of mine, and Sonya from
Beyond the Screen Door has such a talent for combining fabrics
for gorgeous window treatments. Maybe I should try tackling her
bell valance for my keeping room?
I also love using old books and hymnals in craft projects.
Sheryl from the Red Tin Inn has created wonderfully
whimsical Sheet Music Christmas Trees.
I don't think you can ever have too many throw pillows,
though hubby disagrees…. Hymns and Verses made adorable
"I Belong With You" pillows in honor of her son's engagement.
Be sure to click over to see more.
And on that sweet note, I'll hand you over to our lovely regular
hosts. Thanks so much for having me. Doodles, SheilaG.
Thanks so much Sheila!
Before we kick off the party – here a few guidelines we would
like to share:
1) Please follow (GFC) and/or subscribe to your host blog.
2) Be sure to include THE SCOOP button or text link to in your linked post
Mandatory to be featured!
3) By linking up you are agreeing that the photos are yours or that you have
permission to use them, that we may use those photos to feature your project
on a blog post, Facebook, Pinterest, or Twitter with a link back to your
blog, of course.
4) Please go to the source of a photo to pin it to Pinterest so that the
originator of the post gets the credit.
Thank You for Linking Up, Friends!!!