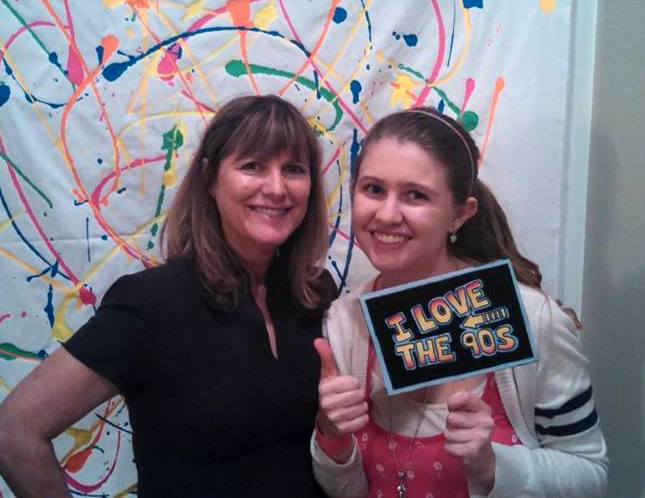 Our friend Nate just turned 29, so they had a party for Nate with a 1990's theme since that is the era when he was growing up. Most everyone was wearing stuff that you might have worn had you been in high school during the 90's… letter jackets, leg warmers, coveralls, you get the point. I just happened to have some clothes from the 90's in my closet which I wore. The top fit, but was a bit tight, after all that was 30 years ago. My jacket had super padded shoulders.  While they were being teenagers in the 90's, I was busy being an adult, working and having my 2 babies. My daughter Evie, in the photo with me, was born in the 90's.
I did feel a bit old at the party. But I enjoyed the music, and was greatly amused by how they served pop-tarts and a few other foods as a nod to the 90's. Pop tarts are not a food of the 90's, they are a food of the 70's, just like Tang and TV dinners.  But I suppose every generation loves Pop tarts. I know I loved the chocolate ones.
Welcome back to The Scoop!
The weekly party featuring the scoop on the best from around the web!
Yvonne from
StoneGable
and Suzy from
Worthing Court
Our host this week is…
Debbie from Confessions of a Plate Addict
Hi everyone! Thanks so much for joining us at The Scoop! It wouldn't be a party without our guests. I always look forward to seeing the wonderful ideas that you share with us each week!
Can you believe it's just a few weeks until Thanksgiving? I am excited that it's almost here because it's my favorite holiday! I have been working to get my tablescape ready and will be sharing it this week but, in the meantime, here's a peek at a few of my past Thanksgiving tablescapes!
And I am also excited because our Country French design group just had our monthly share and this time the subject was a favorite of mine…using baskets in Country French décor!
And now here are a few things that caught my eye last week!
Eilis at My Heart Lives Here showed us her beautiful front porch all decorated for fall! Gotta love those baskets on the doors!
Doesn't this pumpkin pecan ice cream pie from Dee at Meatloaf and Melodrama look yummy? It's a triple header for me with three of my favorites all rolled into one fabulous dessert!
You know I loved this one! Melissa at Dancing Dog Cabin shared her tips for decorating with brown transferware…perfect for fall!
Christy at Confessions of a Serial Do-It-Yourselfer showed us how she made over a pair of French provincial chairs. You have to see the "before" to really appreciate this amazing transformation!
And finally, Angelina at Peonies and Orange Blossoms used jewel tones to create her beautiful and unusual Thanksgiving tablescape!
Now let's see what you have to share!
Thank you for linking up, friends!
Please read the guidelines before participating:
Follow and/or subscribe to your host blog.
Be sure to include THE SCOOP button or text link to in your linked post…mandatory to be featured!
By linking up you are agreeing that the photos are yours or that you have permission to use them, that we may use those photos to feature your project on a blog post, Facebook, Pinterest, or Twitter with a link back to your blog, of course.
Please go to the source of a photo to pin it to Pinterest so that the originator of the post gets the credit.