The magazine photo shoot at my house is over, yippeee!! I loved the talented people that came to my house and they did a splendid job, but the mess, oh the mess. Think about what your home would look like if a small child was allowed to run around your house, pulling everything out of closets and cabinets, while moving the furniture around. It was like that, only without naps or temper tantrums. Seriously they were so professional! I will let you know when the issue comes out.
Welcome back to The Scoop!
The weekly party featuring The Scoop on the best from around the web!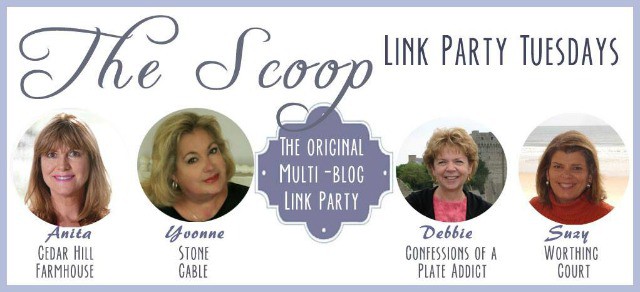 Our host this week is…
Now that Halloween is over, I guess we're all focusing on Thanksgiving.  It will be here before you know it!
Check out some of these links that caught my eye from last week's party.
Thank each and every one of you for linking up and visiting every week!  This wouldn't be such a great place to party without all of you.
Let's get on with it.