Here's what I did to add a touch of cozy to my house.
Take one vintage muffin tin.
Steal idea from Cozy Little House and fill it with candles.
Light candles.
Don't you just love it when you find a great idea to steal?  Thanks Brenda for the wonderful inspiration.  Want some great ideas to steal?  Be sure to join me right here after 9 pm Monday night for our second week of
Cowgirl Up! Linky Party
 1 Party, 4 Blogs.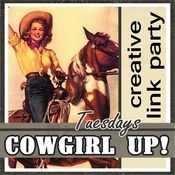 A Note about Linky Followers
A lot of people have asked me about Linky Followers.  It is free service pretty much just like Google Friend Connect.  It is easy to sign up and easy to get the code for your blog.  You can find it in my side bar. Find the Linky Followers in my sidebar, click on the "follow me" and if you don't have a account yet, it will give you the chance to set one up.
I recommend getting it for your blog (if you have one) because
1. Google may do away with Google Friend Connect for Blogger later, although now they have only announced removing it from non-blogger sites.
2. Many big non-blogger sites are going to Linky Followers.  So, I think it will eventually become the gold standard.  Right now, everyone is starting over at ground zero.  If you add Linky Follower now, you can come up to speed with everyone else.  If you wait however, everyone else will have large numbers of linky followers, while you will have to start with zero.
3. If Google does away with Google Friend Connect for Blogspot sites, you may not have much notice, and again, so you could potentially lose one mode of communication with your readers.