I have one of my favorite bloggers on the back porch today, Kristin of My Uncommon Slice of Suburbia is such a sweetie.  I love her gorgeous California home. She's a devoted mom too. Her son, Grayson, just went through a health scare and Kristin stayed by his side through the whole ordeal. I'm so happy he is healthy again. 
Hello everyone!
I'm Kristin from My Uncommon Slice of Suburbia and I am so excited to be part of Anita's On the back porch series! I have long been a fan of Anita's for her style, huge heart, humbleness and creativity I am honored to be here today!
Why did you start a blog?
What started as a little blog over three years ago to document our home improvement projects has become my passion. Never in my wildest dreams could I have imagined I would gain a readership, be given some pretty incredible opportunities and make some really awesome friends, a true blessing! Words can't quite describe how thankful Ray and I are.
How would you describe your style?


Oh that is a tough one, I would say rustic elegance but if you dig a little deeper you will find some traditional elements with a French cottage flair, Is that possible?
One of our first projects was turning three small rooms (living, dining, family) into one large great room by knocking down a wall. This created a space that was 100% usable and functional which was so important for us.
What was the most exciting thing that has happened to you because of your blog?
After just a few months of blogging, Better Homes and Gardens contacted us to see if we would be interested in having our kitchen published.
When I opened up the e-mail I really thought it was a joke, really! I replied back with my phone number and they called me, it was crazy and so exciting! It was such an honor for Ray and I to be mentioned in such a respected publication. I have been reading BHG since my mom subscribed to it when I was just a young girl!
This is a tough one! Aside from being the best mom I can be I would love for Ray and I to start flipping houses. He is so amazing with all his handy skills and I could sweep in after and add my finishing touches. Giving him the opportunity to not work a 9-5 job (OK more like a 12 hour a day + job) so we can enjoy our family time, do what we love AND make money would be a dream come true. Besides, we make a pretty good team!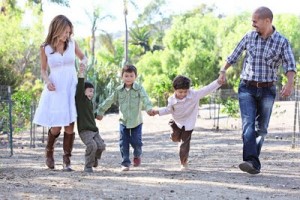 What are a few things that readers would be surprised to find out about you?
I love all music from Country to Pop and a little Hip Hop! I have this weird thing where I have to shower every-night before I go to bed even if I showered in the morning, why I just told you that, I don't know. My house may seem put together 50% of the time but don't you dare open the drawers, you would be in for a huge shocker! 
I come from a family of 6 with my oldest brother and I being 16 years apart (same mom and dad). I was very close to death during the delivery of my first son 10 years ago. I still check on all 3 of my boys before going to bed and listen for that "breath".
What are your top 3 favorite posts?
I have to say my favorite posts are the ones we poured our heart and soul into with time, love and lots of hard work. These are also the posts that have helped others achieve goals in their home they never thought was possible. It is fun to show people you can have a designer look on a dime!
The Loft was a complete modge podge. By repainting the desk and bookshelves and adding a new chair it completely changed the whole look of the space.
I have to go back to the Kitchen renovation, it was one of our biggest accomplishments. We went from builder grade to custom made with lots of paint, elbow grease and trim.
You can find all the details below
How to add glass to a wood cabinet
My third favorite was our Craft/mud/play room. With three boys we were quickly running our of space. We walled off part of the garage and made it into a room which has come in very handy.
Thank you so much for reading and for having me, Anita.
Did you miss any of the interviews? You can catch up here. 
Would you like to receive a preview of my posts in your inbox? Subscribe below.
Enter your email address:
Delivered by FeedBurner