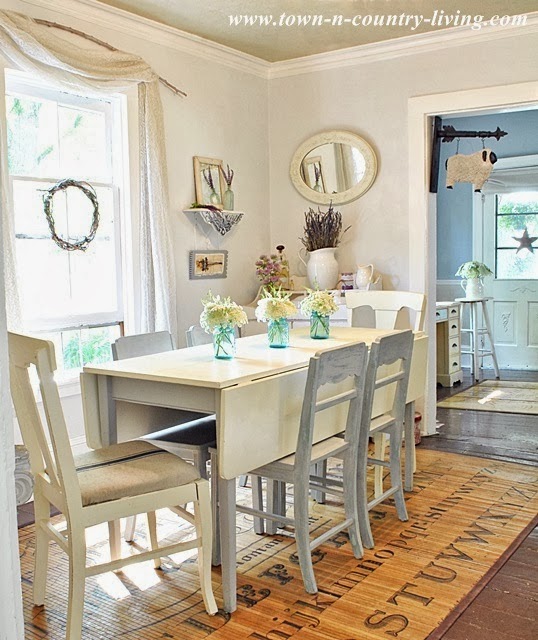 I am excited to have Jennifer from Town and Country Living with me today on the back porch.  She is such a delightful person and has a gorgeous home. I can't wait for you to meet her. Here she is in her own words.


1. Why did you start a blog?

For months I had been reading decorating blogs and loved all the inspiration and talent I was seeing. I had some projects around the house I wanted to complete so I thought if I started a blog, it would be motivation for me to complete some of that stuff. After all, I would need something to blog about. So far, it's working!




2. What was the most exciting thing that has happened to you because of your blog?

The most exciting thing that's happened is having a few magazines approach me to feature my home in their pages. The first magazine where my home appeared was Casa Chic , which is only sold in France and Italy. They wanted to use photos I had taken, which was an added bonus. When I started my blog, I couldn't take a decent picture if my life depended on it! I've worked very hard on my photography so their request was validation that I was getting better.

The second magazine that featured my home was Simply Shabbilicious which is produced by the wonderfully creative Kerryanne at Shabby Art Boutique . She has generously agreed to show my home all decorated for the holidays in her upcoming Christmas issue.



Finally, my home is going to appear in Country Sampler magazine. They sent one of their professional photographers to my home in January 2013. Our house has never been cleaner!! A few months after the photo shoot, their writer called to interview me. We talked for about 2 hours. Last I heard, my home is slated to appear in an early 2014 issue. Can't wait!



3. What is your dream gig or do you already have it?

My dream gig is something I'll probably never do because it's too much work! I would love to live on a small farm and have a farm-to-table restaurant on the property with family style meals served. I love to cook but have no professional training and I certainly don't know how to farm although I grow my own vegetables. Since that's too much work and would take too much schooling, my next-in-line dream gig would be to work as a food and travel editor. Who wouldn't love to get paid to fly to Italy or France, sipping wine and dining on gourmet cuisine?



4. What are a few things that readers would be surprised to find out about you?

A few things? Hmmm …

Some of my readers already know this about me, but I run marathons for fun. Yes, for fun! I used to hate running but something about it hooked me after doing it for awhile and now I love it. Weird, I know. I'm currently training for my 6th marathon this coming November. I've qualified twice for the Boston Marathon but never ran it. One year I sprained my ankle a couple months before Boston, and another year my daughter decided to get married so I saved my money for her wedding and said no to Boston.



Most readers probably don't know I've written a book, The Pond Builder's Guide to Break Even. It's a financial book for pond contractors that I wrote a few years ago in my role as marketing communications manager for Aquascape, Inc, which is the job I still hold today. I also write articles for landscape magazines so I've been published a few times. When I was in college I always wanted to be an author. At that time I was thinking more along the lines of a John Grisham novel but I honestly don't have the patience to write something that long.



A final thing that might surprise readers … I can curl my tongue in the shape of a clover leaf. I think this is a recessive gene trait as one of my children can do this, but the others can't. I should take a picture some time and put it on my blog. 



5. How would you describe your style?

My style is a mix of farmhouse and cottage with a little bit of Swedish thrown in. I love the Scandinavian blogs and get quite a bit of inspiration from them.



6. What are your top 3 favorite posts?

Wow. This is a tough question. I would have to say last year's Christmas home tour, 




this year's Summer home tour, and the post about painting my claw foot tub … mostly because it took me many years to get up the nerve to paint it! 


Oh thank you Jennifer!! See? Isn't she wonderful?  I think her home is so refreshing and soothing.

Did you miss any of the home tours?  You can find them here.