When I buy grainsacks, it's often for my shop, but when I come across monogrammed ones, I never sell them. I just don't. They are too hard to come by and so perfect to use as a pillow or to upholster something. Just look at the settee below. That was upholstered with a vintage monogrammed grainsack.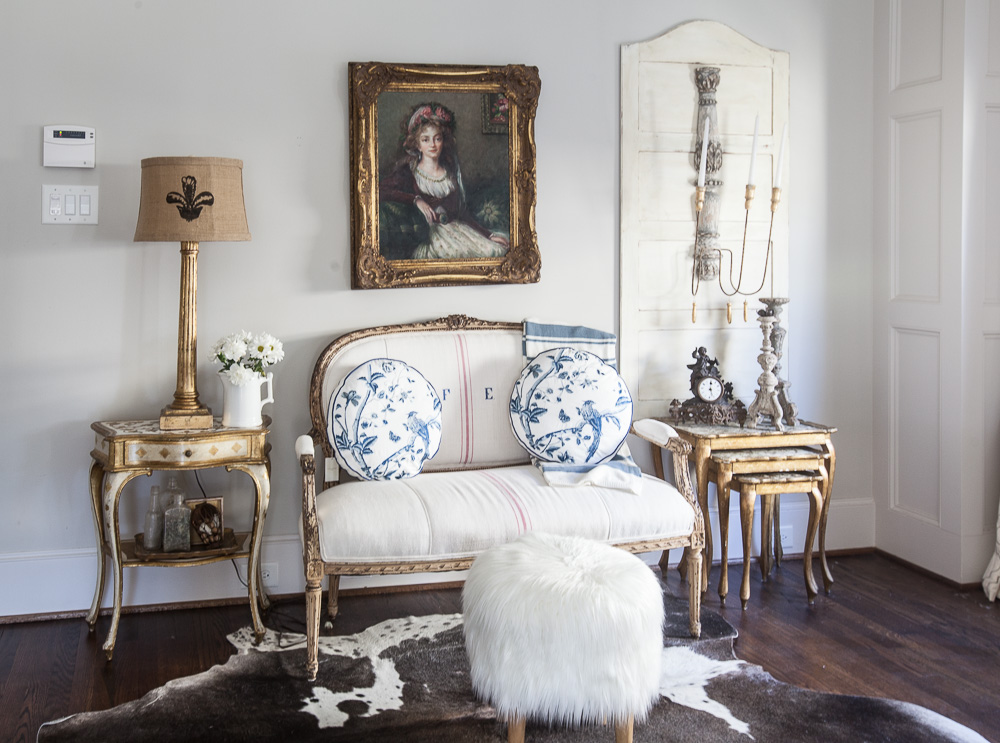 This grainsack didn't come with a monogram, so we added one before I added it to this antique fireplace screen. See how much the monogram makes it pop?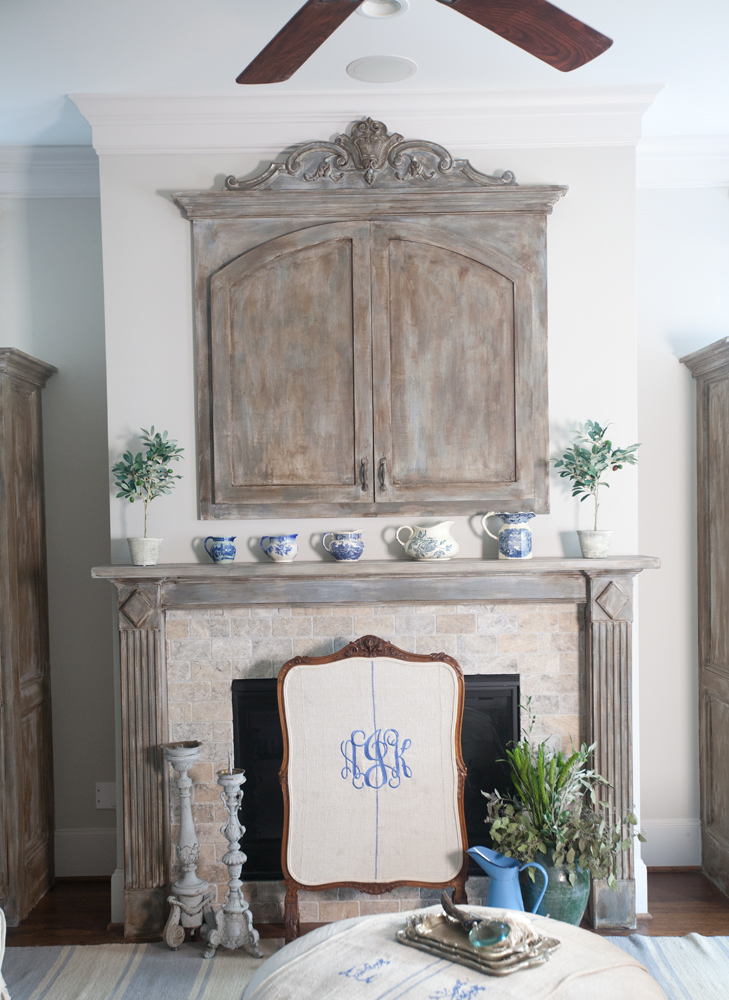 I found some grainsacks with a monogram and no stripes. And there was a pair of them, so I used it on two matching antique French chairs.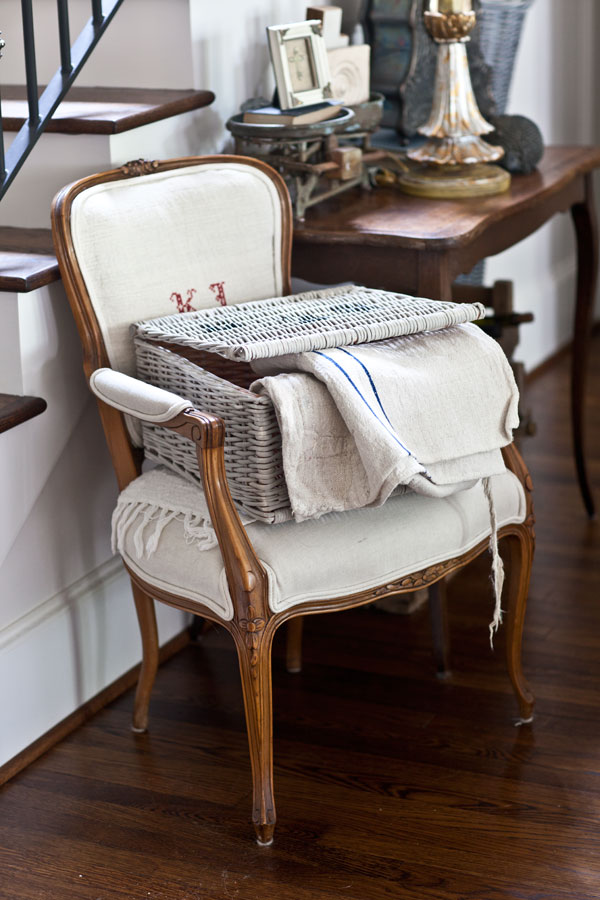 The monogram really stands out on the chairs.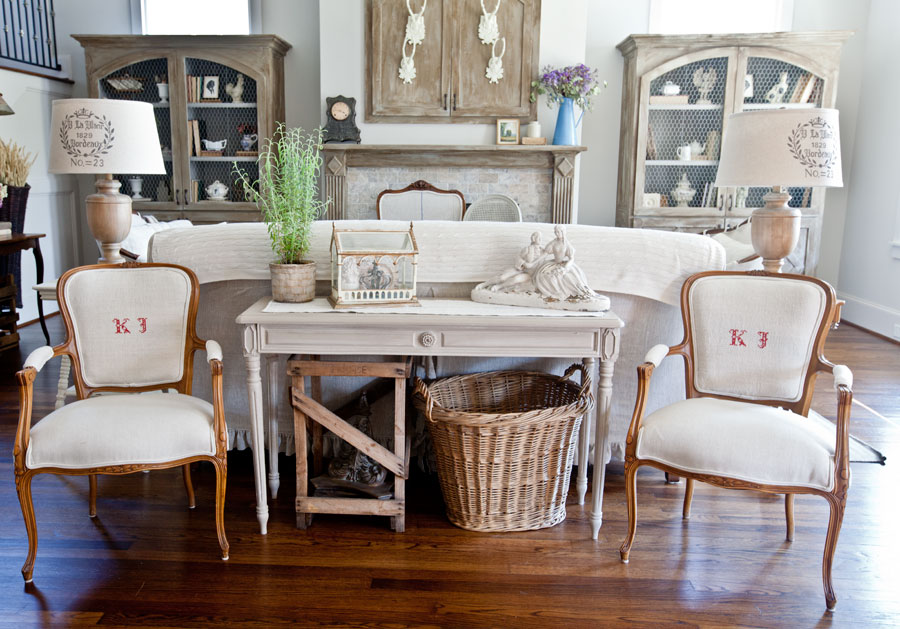 Looking to decorate in farmhouse style? Be sure to listen to the podcast episode below. Want more episodes? CLICK HERE.
Here I used one grainsack for a pillow on the chair and draped the other one across the ottoman.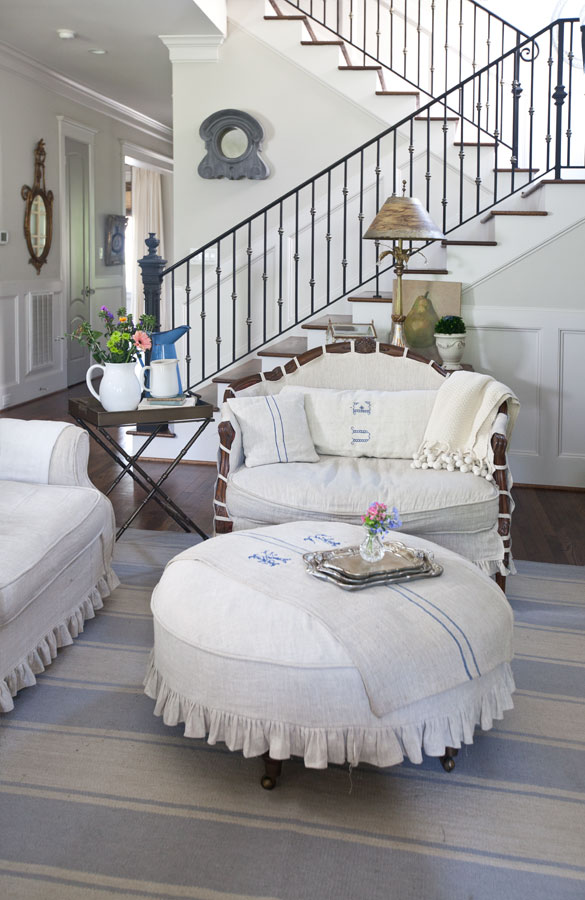 So… this brings me to two announcements.
The first one is that I am parting with a few of my monogrammed grainsacks and they are on sale! I only have one of each.
The second announcement is that I am closing my online shop May 12, 2017.  I have been thinking about it for about 4 months. Although it has done very well, I have been thinking about the future and what I see myself doing in 5 years. It's so much work, and I barely see my family, so it's time to cut back. But it's not all bad news. I'm shutting it down so I can focus on my blog and the podcast DECORATING TIPS AND TRICKS.
And for all of the many people that bought from my shop, I appreciate it more than I can possibly express. It's been a pleasure to serve you. Thank you for all of the kind words and photos you have sent of your goodies.
So Much Better With Age | Bread Box to Letter Box & What I Look for at Thrift Stores
StoneGable | 5 Ways to Beautifully Accessorize a Room
Cedar Hill Farmhouse | Vintage Grainsacks
Designthusiasm | Spring Table: Pretty Pastels for a Sweet Occasion
Maison de Pax | Tips for Bringing Spring Inside (Spring Kitchen Tour)
Savvy Southern Style | Spring Farmhouse Style Guestroom
Shabbyfufu | How to Easily Beautify a Plain Blah Cake