I only rarely share non-decor items here. It's only when I believe in the product and think you might want one for yourself. So today I am sharing a cool new discovery.
I've had rechargeable vacuums before. They were nice, but tended to be bulky and had a large charging base. I didn't like the large charging base or the large size cordless vacuum. What's the point of having a cordless vacuum if it is as large as my regular vacuum? I also had a problem with how poorly they picked up stuff. It needs to work too.
Today Evie is helping me check out the new BLACK+DECKER 2 IN 1 STICK VAC, CLICK HERE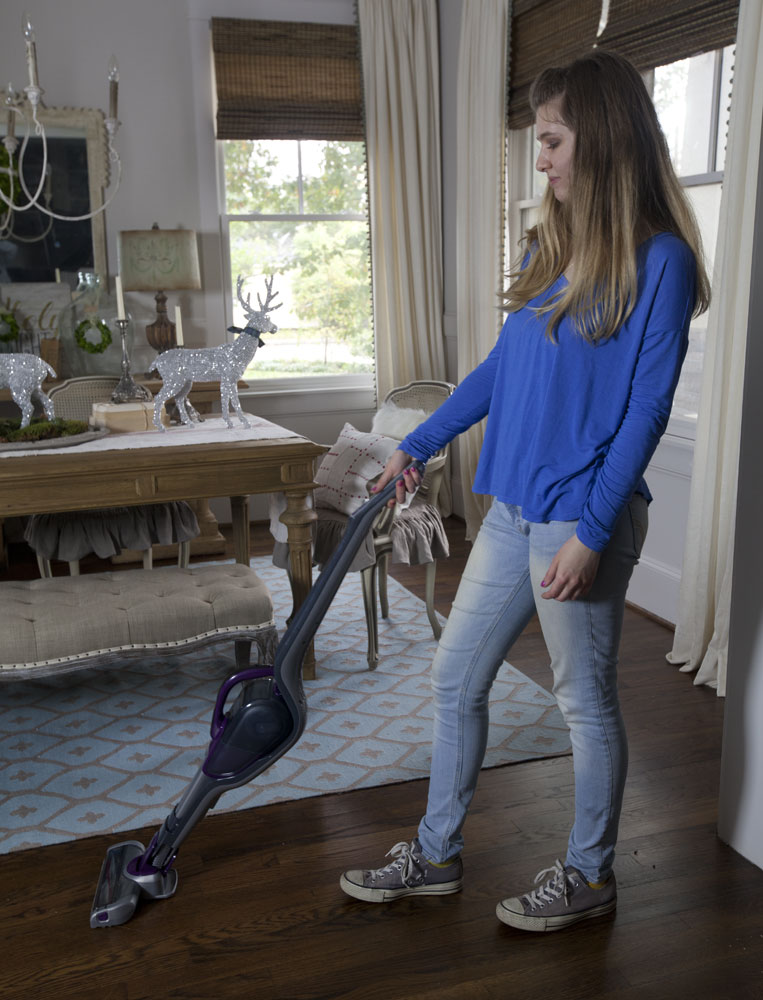 So I was a bit skeptical, I admit.
This is sponsored by BLACK+DECKER. All opinions are my own.
See how small it is? It's really lightweight, so lightweight that miracle of miracles, my daughter didn't complain when I asked her to vacuum the dining room. She actually asked if she could vacuum the entire house.
Okay, that last part is not true. Just checking to see if you are paying attention. She really liked it, but did not offer to clean the entire house.
With hardwood floors, we end up with little bits of dust and dog hair everywhere. It was really nice to get up the dog hair without pulling out my 'big guns' vacuum.
I love options too. This vacuum has a low setting and a power boost setting. You can use it with or without the rotary brush.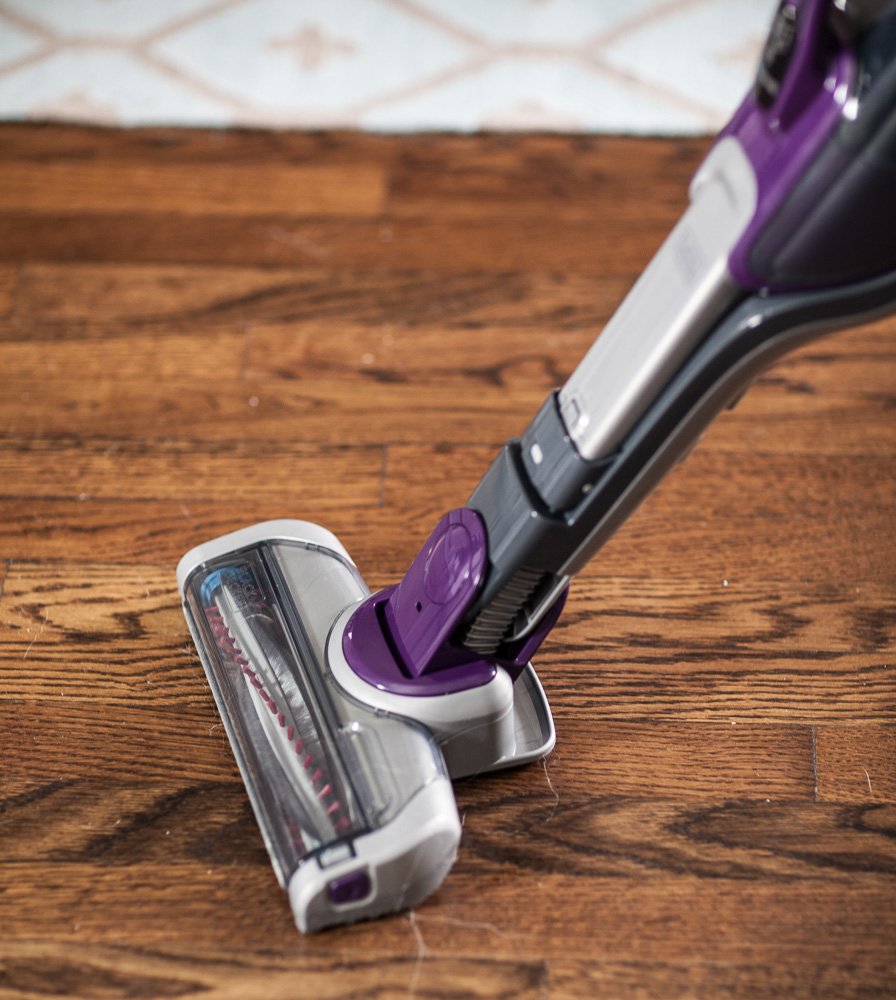 I was loving how easy it was to use, then I remembered that we had the handheld vacuum on this unit also. Press a button and the handheld vacuum comes right out.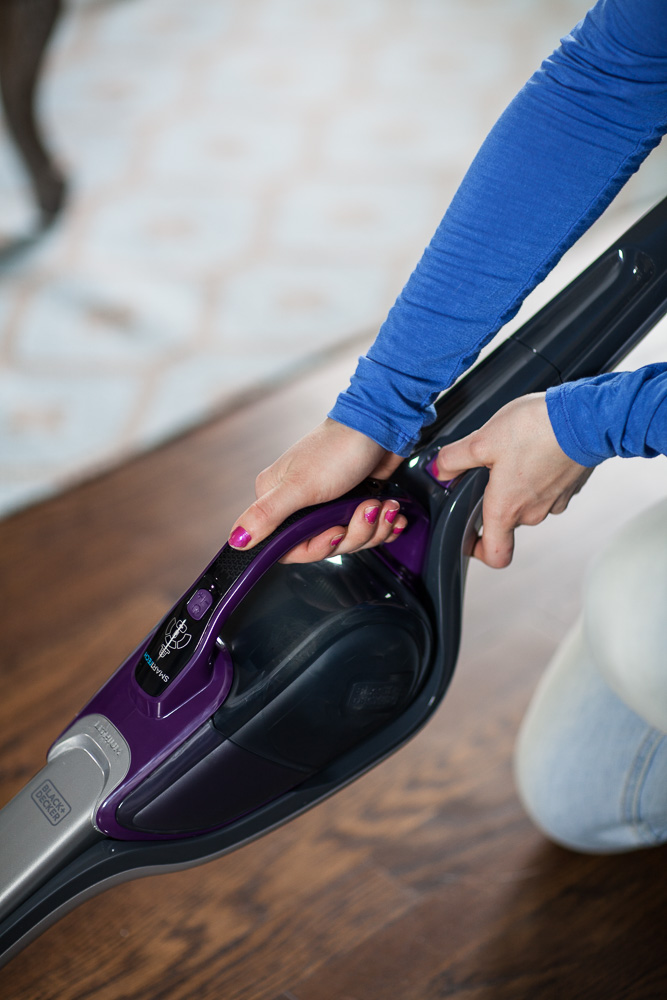 My daughter is demonstrating how easy it is to remove.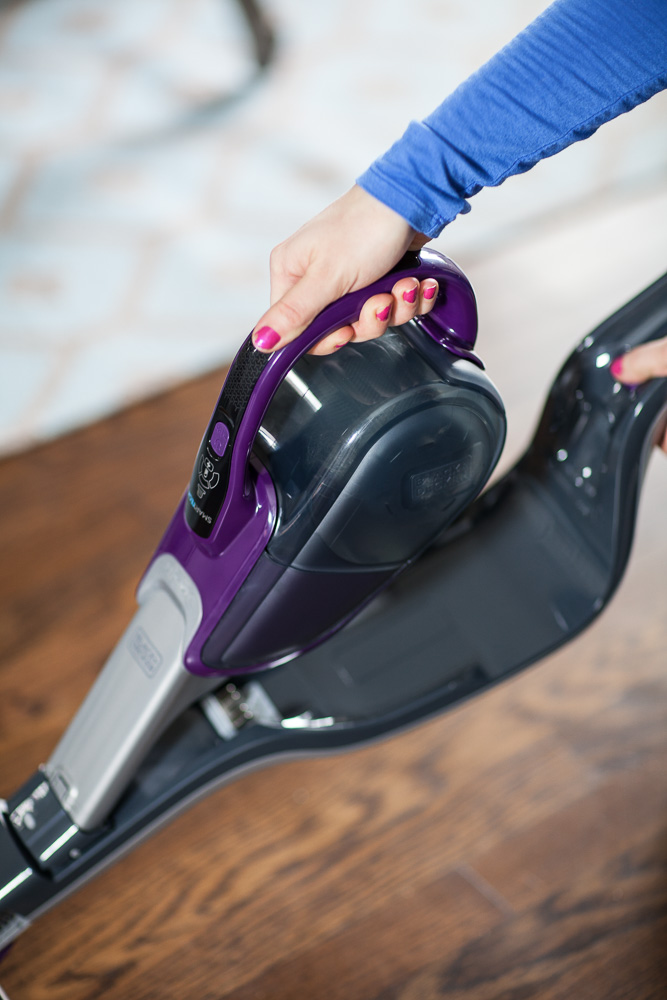 It is also lightweight.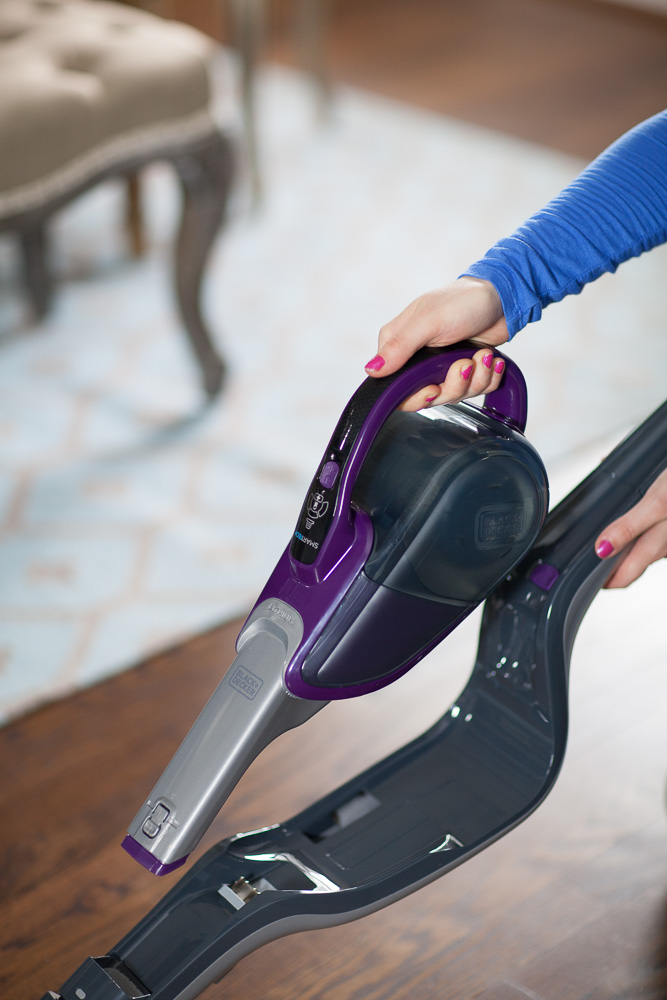 It worked just as well as the floor vacuum. They both have excellent suction. Often these battery operated devices are weak, but I was pleasantly surprised by both of the vacuums. It runs on a lithium battery, and that might be why it has good power. Did I mention it's purple? #myfavoritecolor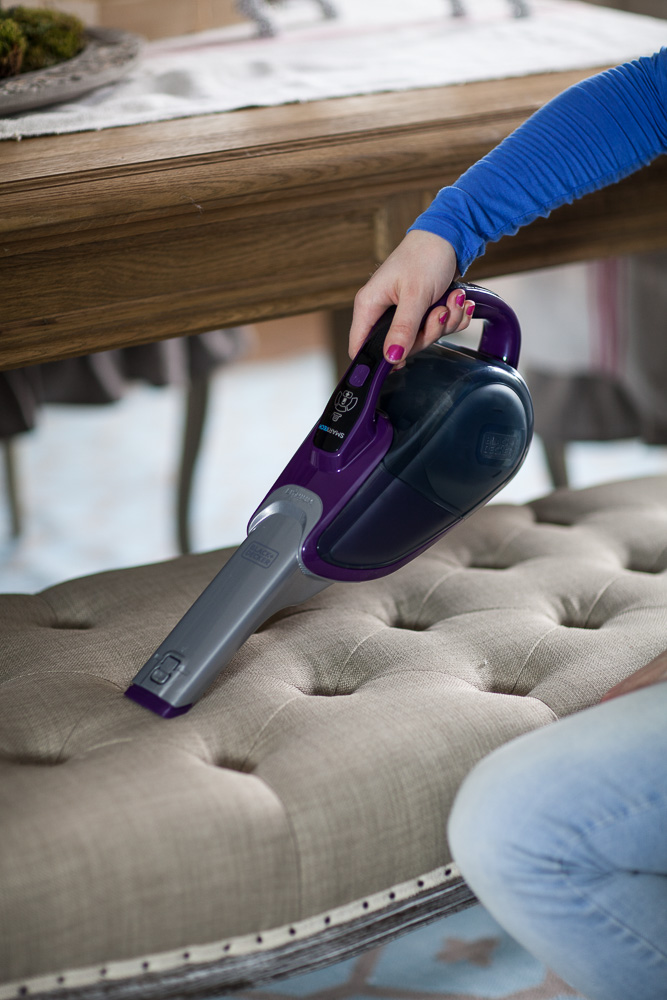 I did want let you know that there is a giveaway for this product!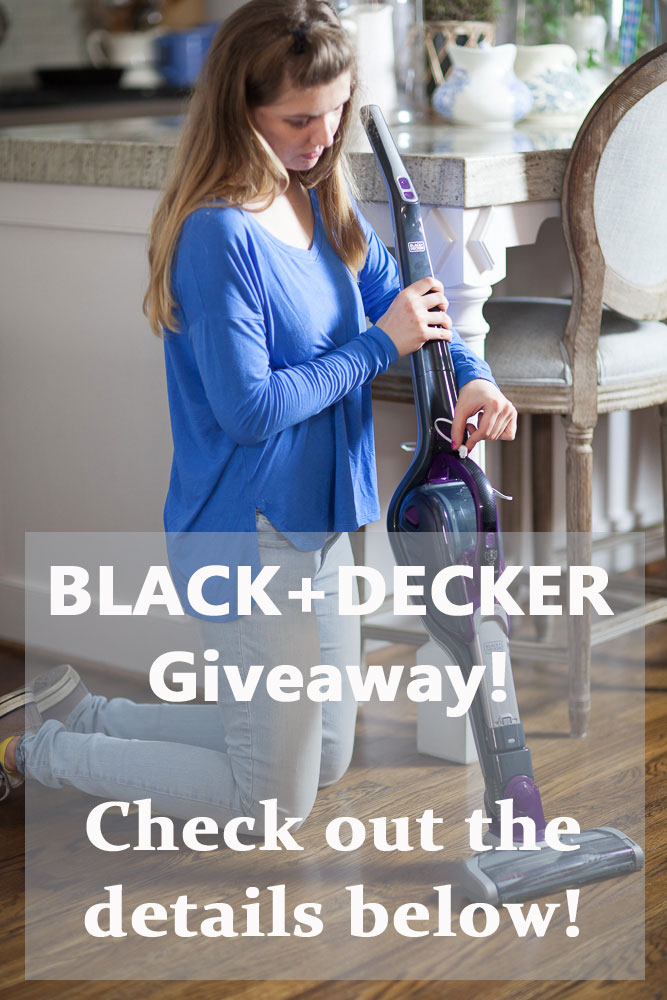 Here is how you enter.
Go to the BLACK+DECKER site and check out this BLACK+DECKER stick vacuum.
Come back here and leave a comment saying what you like about the vacuum. The giveaway includes comments from 35 blogs, and there will be 20 winners chosen at random by Linqia after Dec 29. Pretty easy to enter, right?
Here's some more details for you on the vacuum.
It also has an automatic sensor mode that you can use. That mode adjusts the suction automatically as you go from a bare floor to carpet. There's a light that indicates if the autosense is on or not. There's also a light that let' you know how charged the battery is. My daughter gave this feature a thumbs up. Lastly there's a sensor that lets you know if the filter needs to be cleaned. Sweet!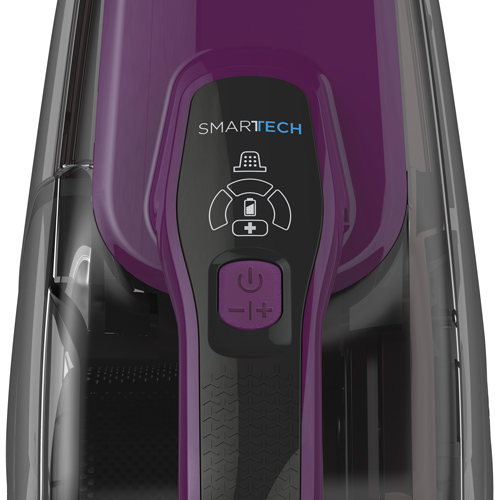 Then Evie plugged it in to charge it.
I was very happy with the vacuum… both of them. I really loved how lightweight it was and how easy it was to grab it to pick up all the collie hair all over our floors. It's so small that it gets under my chairs very easily. If I can pick up the dog hair without getting on my hands and knees, I'm all over it. I also used it to pick up the needles from the Christmas tree.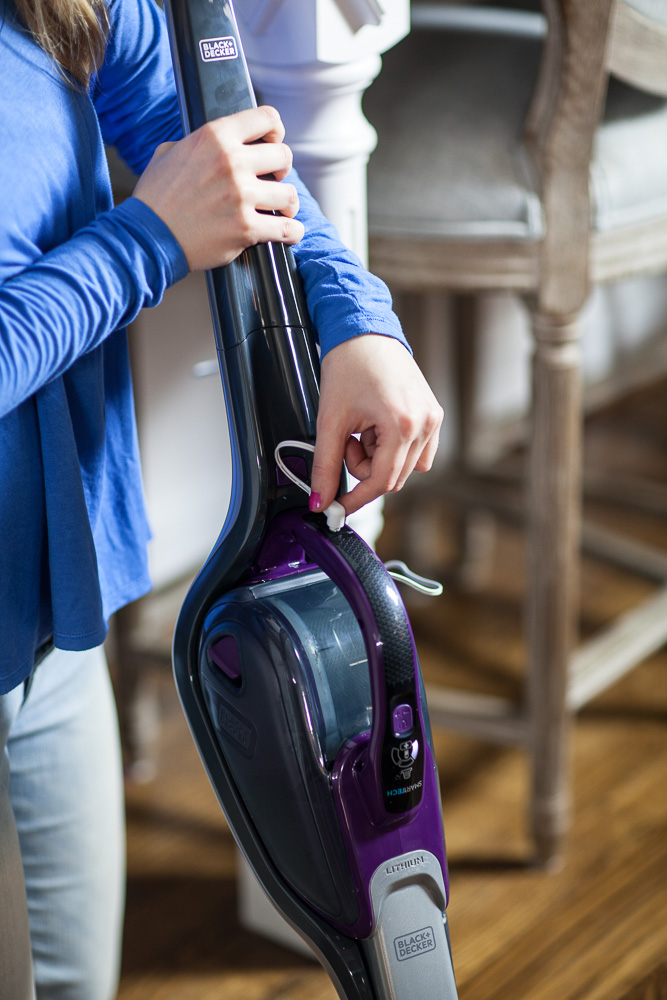 Now if only we could get you-know-who to clean up her own hair.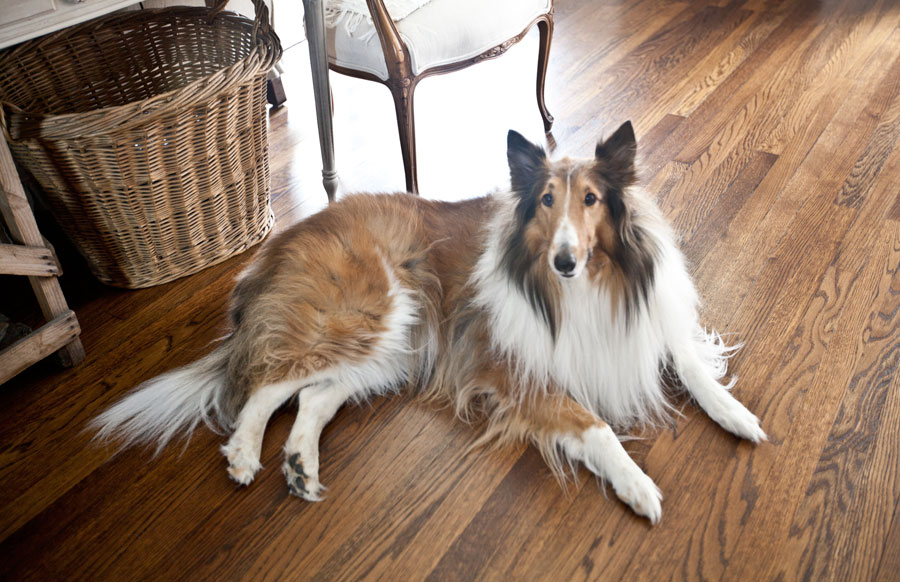 CLICK HERE then leave a comment about what you liked about the vacuum to enter the giveaway.