Must have gorgeous book on floral design
I'm so excited to share this news with you today. Kelly of My Soulful Home is releasing her first book today! Her book is on floral design. She's been working on it all year, and now it's being released.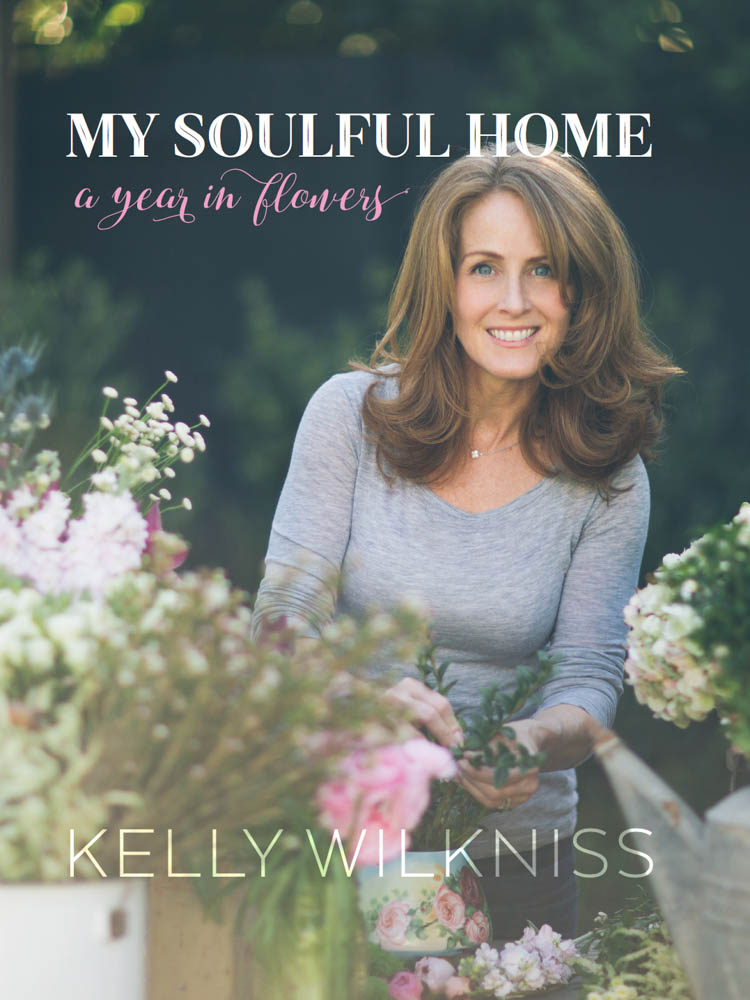 Before we get to Kelly, I wanted to let you know that the Dash and Albert rug design challenge ends tomorrow. I'm no longer referring to this as my design. It's OUR design.  It's going into the final stretch! I'm only in the running because of you. Seriously!!!
I feel so honored by your support. I can't express my gratitude enough. Many of you are not on Instagram. And many more have asked if you can vote more than once. The answer is you can't vote more than once, BUT, you can do this. Please share this on Facebook post to your Facebook page and ask your friends to vote. If you haven't shared a post before, here's how to do it.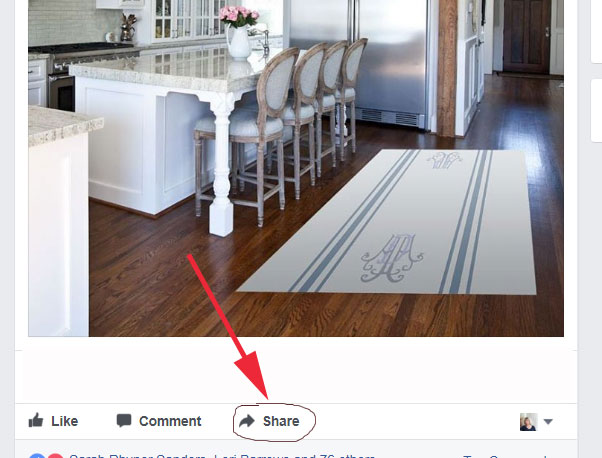 y
Click on the post below and it will take you to Facebook. Then click on the share button as shown above. You can add a personal note, like "This is my friend, please vote for her. She has worked so hard for this, and it would be a dream come true for her."
And if you haven't voted yet, here's the link to do that. Simply click on the link, then hit the heart. Once the heart turns red, you are done. Voting ends Thursday and the race is super tight. Thank you to everyone who has already voted!!! This is so important to me. It would be truly be a dream-come-true.
CLICK HERE AND LIKE THE PHOTO.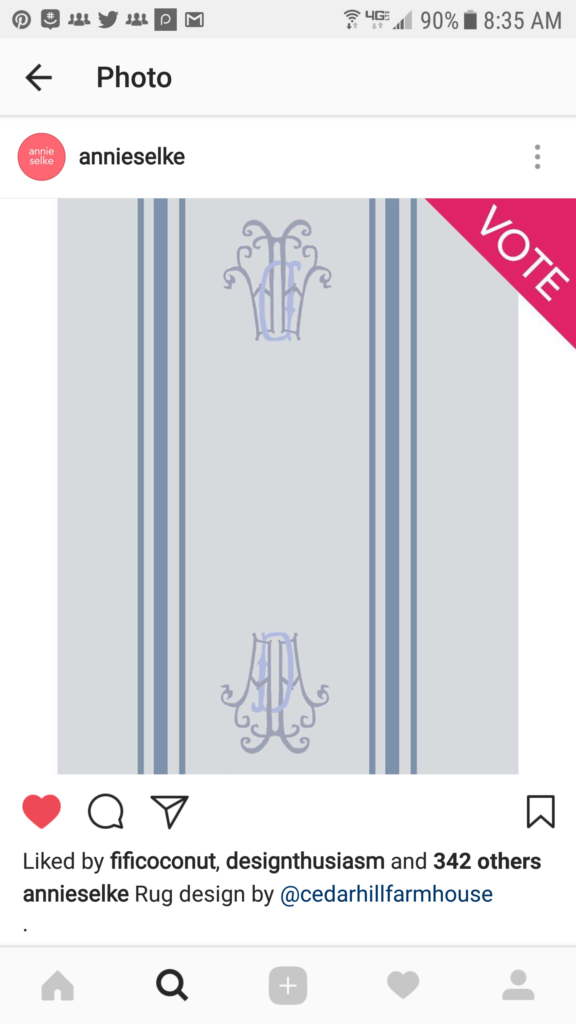 We won't talk about how pretty she is, because frankly it's annoying. Just kidding! She's adorable inside and out. The book shows you how to create 12 floral designs, one for each month. As Kelly says… "Don't spend your life waiting for someone to send you flowers.  Make your own arrangements".   With her book you can do just that !
I love arranging flowers, so this is my kind of book. Kelly is a big gardener, so she knows a lot about flowers too. Her book is full of real-live tips for the care of flowers, but also she's added some interesting stories, like her time spent living in London after college but before law school.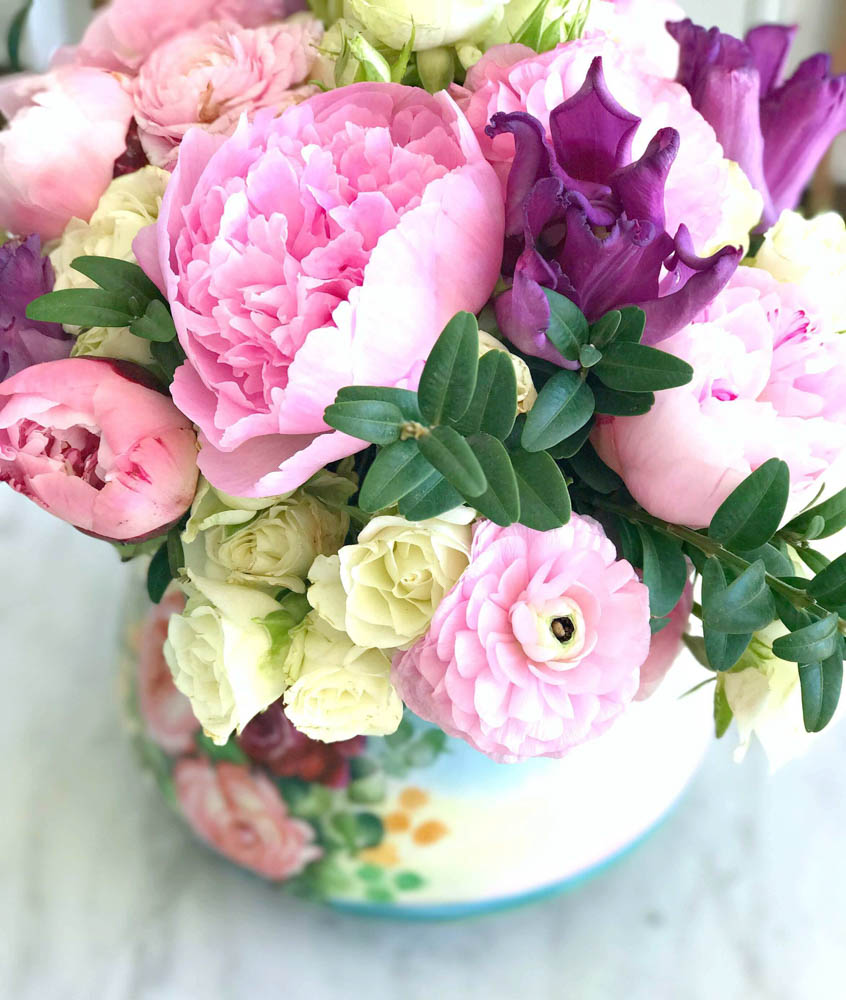 It's always fun using a beautiful and unique vase to make a statement. She covers supplies you'll need for your arrangements and how to keep those darlings looking fresh as long as possible!!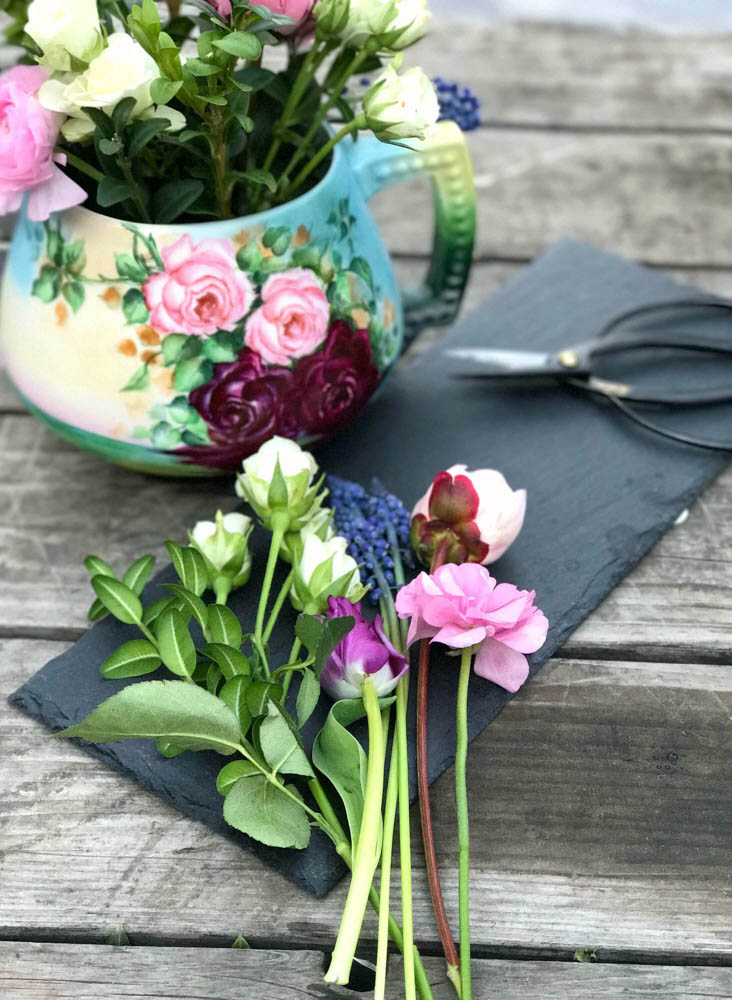 CHECK OUT THE PODCAST
EPISODE 74 LET'S GET REAL
She also gives you plenty of ideas on what to use for vases. There are so many choices! She also shows flowers in an oatmeal can! I did the same thing one time, only I didn't use a glass jar inside the oatmeal can, so the water leaked out. Wish I had read her book before. I could have avoided that mess.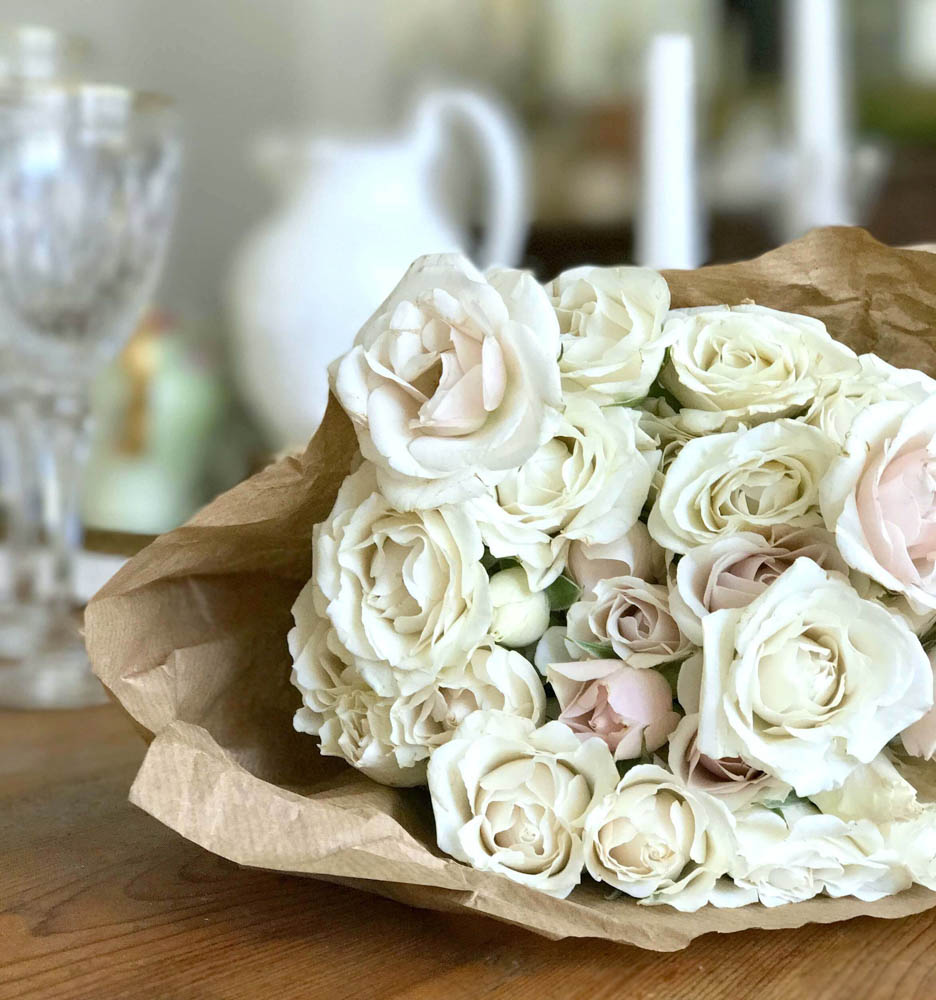 One of my favorite arrangements was done in a teacup! It's so pretty!!!
Kelly knows her stuff for sure. And she couldn't have a better side kick. Here's Emmett helping with the flowers.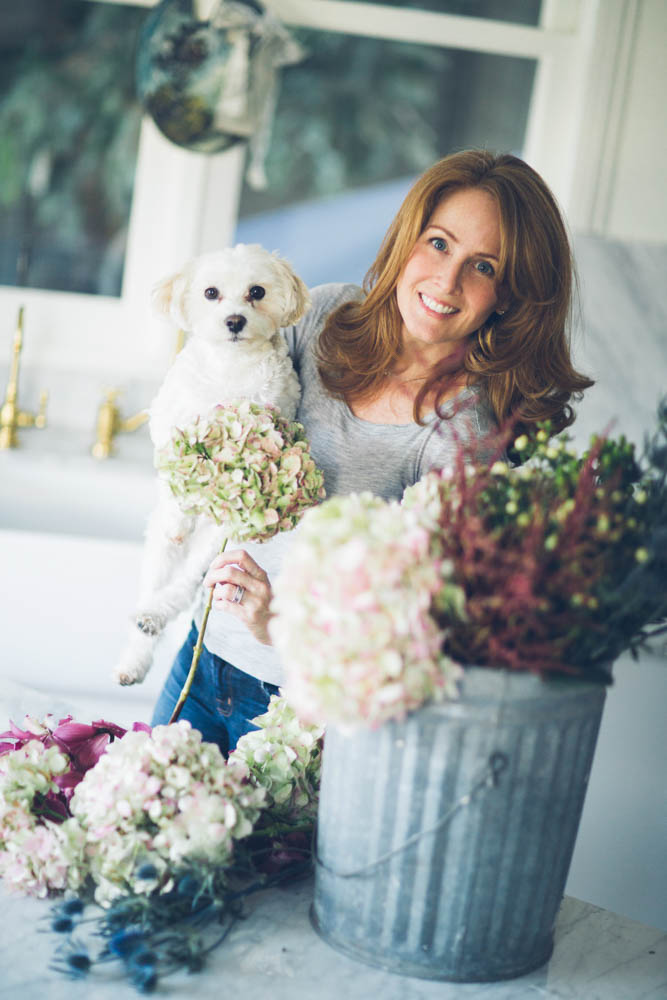 Arranging flowers is such a super fun experience. I highly recommend buying flowers for yourself and arranging them yourself. For inexpensive but gorgeous flowers, try your local Trader Joes. (Not sponsored, just a happy customer.)
affiliate link
CLICK HERE TO FIND HER BOOK ON AMAZON.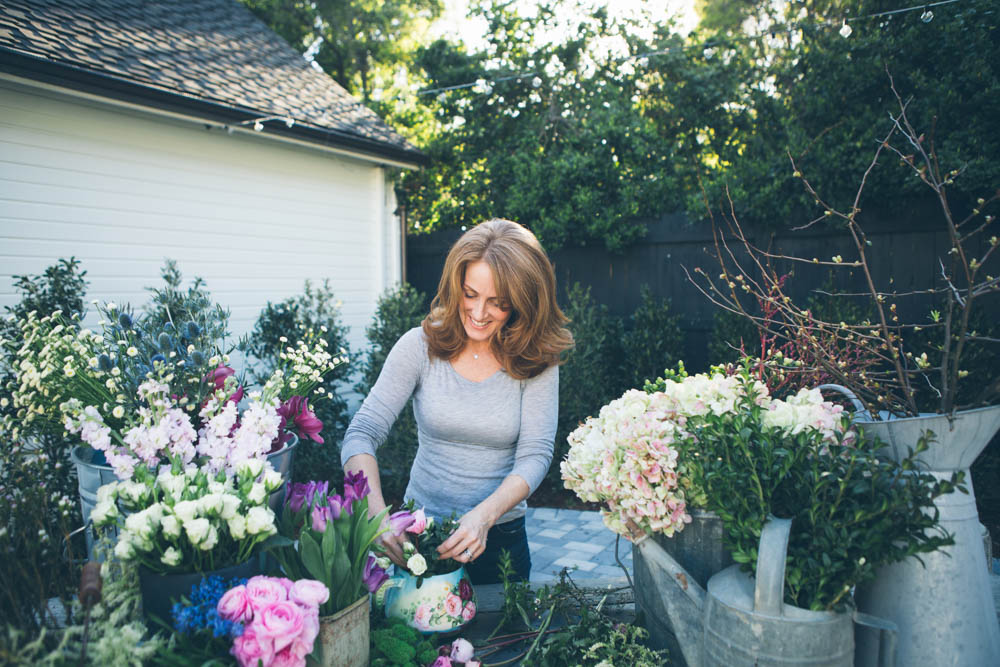 To celebrate the launch of her book, Kelly is giving away a beautiful blue & white vintage tureen, a pair of her favorite floral shears and a supply of flower food.  The tureen is very old and bears the chippy goodness we love. To enter all you need to do is pop over to Kelly's blog
HERE
, have a look at the collage image of arrangements.  Then come back here and tell me which one you liked best.  The photo collage image start with January & ends with December.  Leave a comment with your favorite here & you are entered.  The winner will be randomly selected and notified by email.  The give away runs 7/19 – 7/26.  The winner will be notified by email on 7/28.