I get asked this question a lot. How do you transition a home to country French decor? This is something I did a while ago.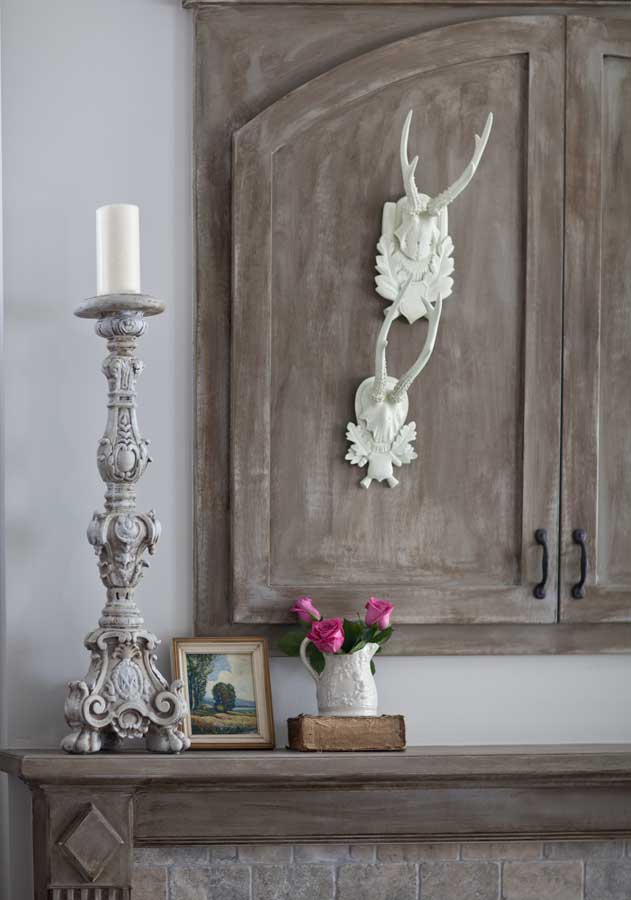 Create a Pinterest board for your new look
The first thing I suggest is to create a Pinterest board for your new look.
You know where your starting point is, but you need to know where you want to go. How will you know where to turn, how to get there if you don't know where you are going? It's very important to have a good idea of the look you are going for. You can always make changes as you go along.
This is the board I created when I was honing my look. My house didn't actually look like these photos at the time. These were my dream looks. See the Pinterest board below.
Farmhouse French Pinterest board
Assess everything in the room
After you have a good feel for the look you are going for, then you can look around at your room and see what is working and what is not working for your new look. I was so excited when I realized I had one corner that had the look I was going for. It was just one corner… in my entire house. But I had a vision now. The table was not to my liking, so I covered it with a linen fabric. See? I was on my way!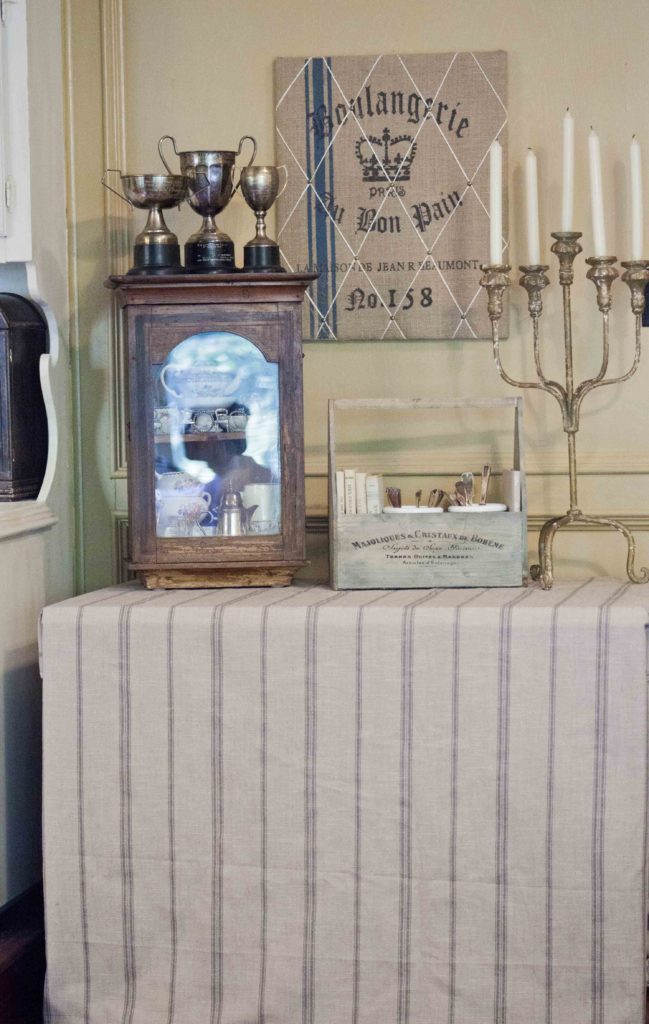 Remove/sell anything that you can that doesn't work with your new look
Well do this as much as you can. I realized I wanted a neutral look and this was my living room. Not neutral at all! Did I feel overwhelmed? Absolutely!
But I bit the bullet as it were and began the transformation.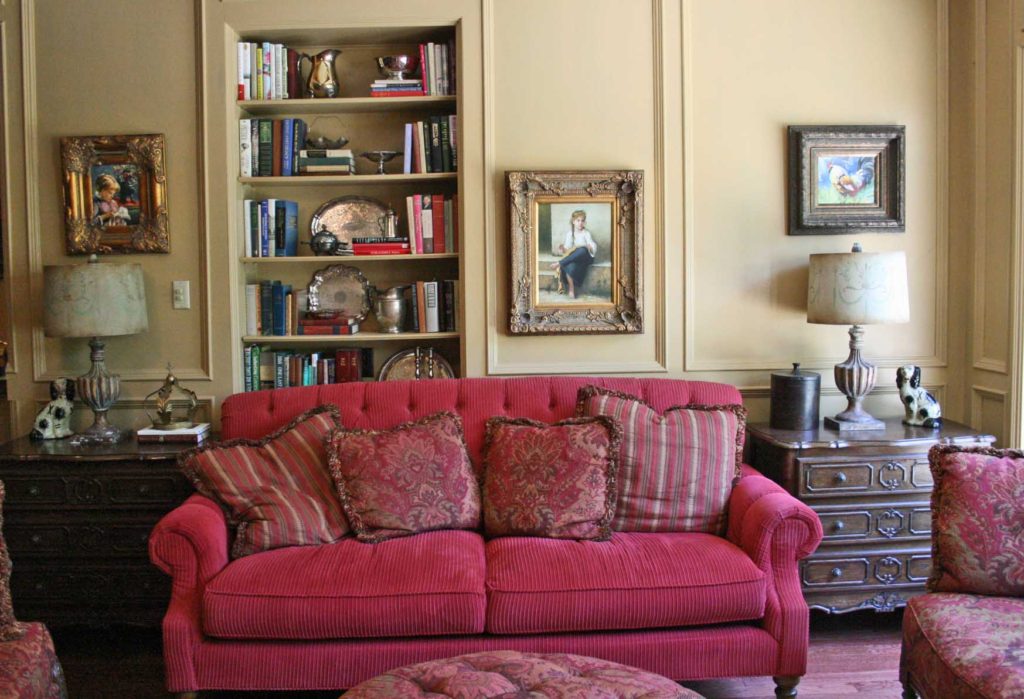 Put together a buying list
I really wanted a new sofa and chairs, but that just wasn't in the budget. So I made linen slipcovers. It look a lot of work, and a lot of fabric. The metamorphosis had begun. The walls were still yellow, but one step at a time. When your home is in transition, it may feel like it is going through an awkward phase. I really didn't like the walls this color, but again, I didn't want to paint them.  We were going to move in about a year or two and I didn't want to pay for the paint. So I didn't paint the walls.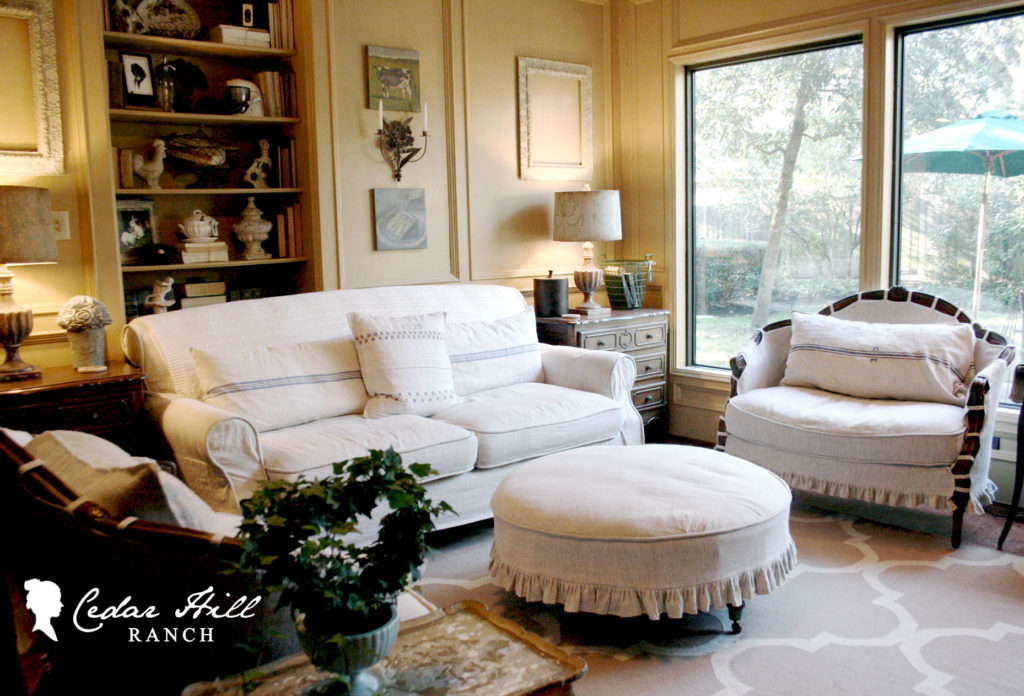 Finally we moved into our new home and see, no more yellow walls! The neutral fabric worked in my neutral room, finally.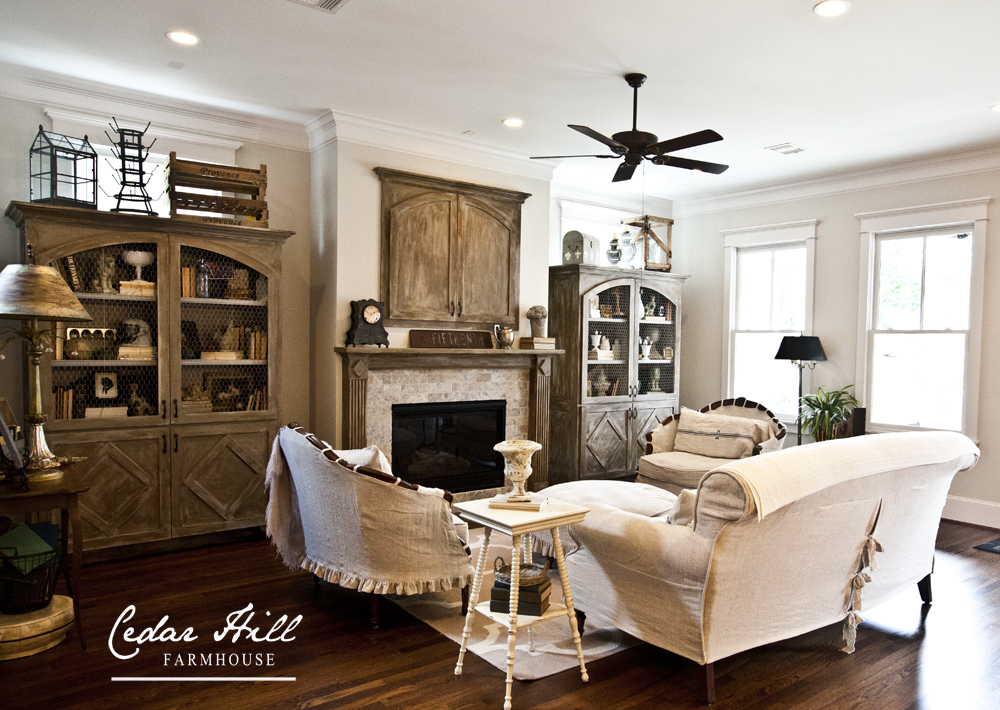 Try to buy one big thing per year. 
I still have that same sofa, the two chairs and the ottoman.  But I've gotten a new fireplace screen and some new end tables. The rug was also changed. The transition has been slow, but steady. I keep showing you photos of our old house because I want to be real and so you can see that things didn't change overnight.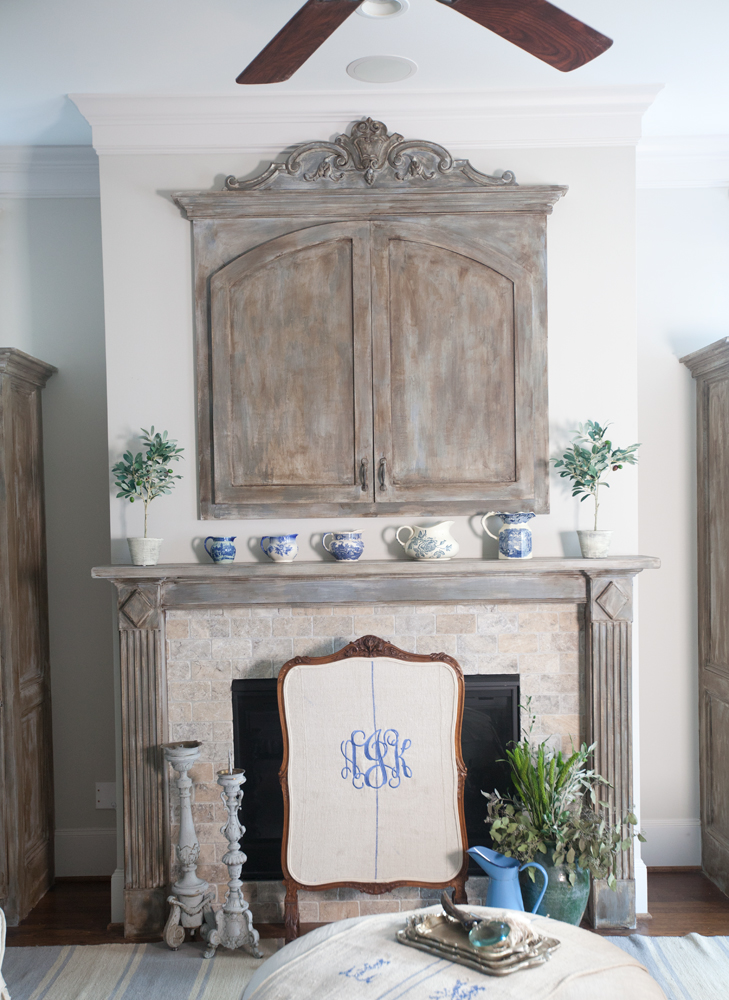 At some point I bought the table that goes behind the sofa for less than $500. I moved some chairs into the space from the dining room.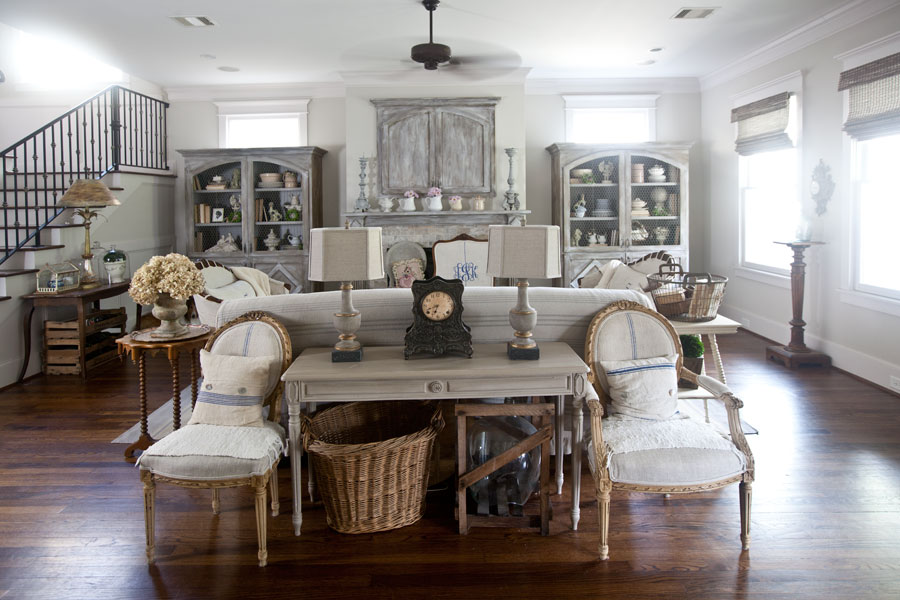 All the while I kept true to the look I was going for, a rustic, neutral farmhouse French look. I didn't know exactly how the room would end up, but I knew the general direction I was headed in.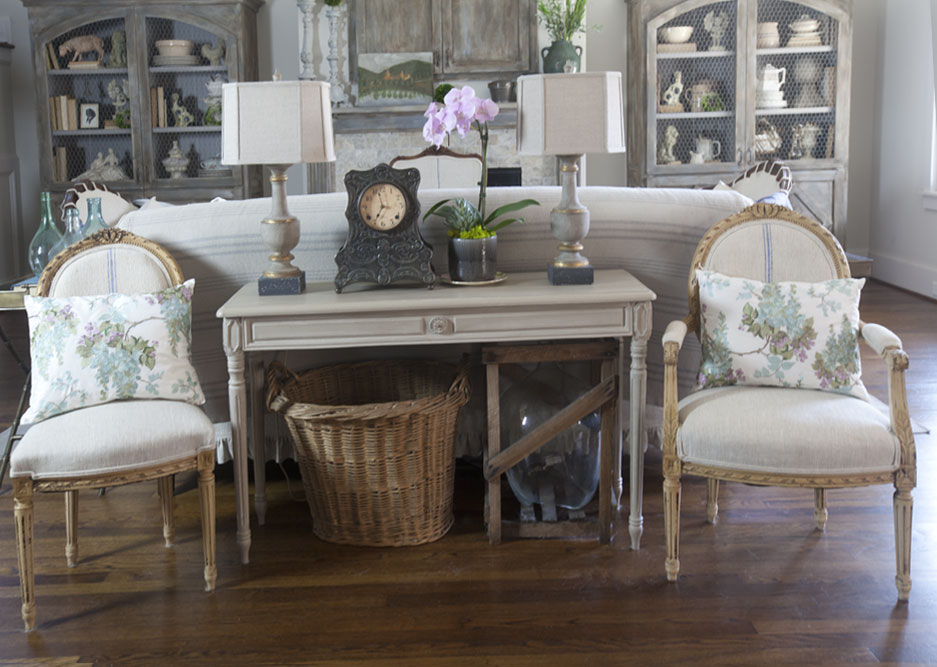 It's not perfect, but I'm very happy that I decided to make the changes, even if there was an awkward transition period.
Remember that the special offer of the 4 piece cleaning set for free with a purchase of $20 is only good through Sunday. You'll need to enter your email address to get the deal. CLICK HERE.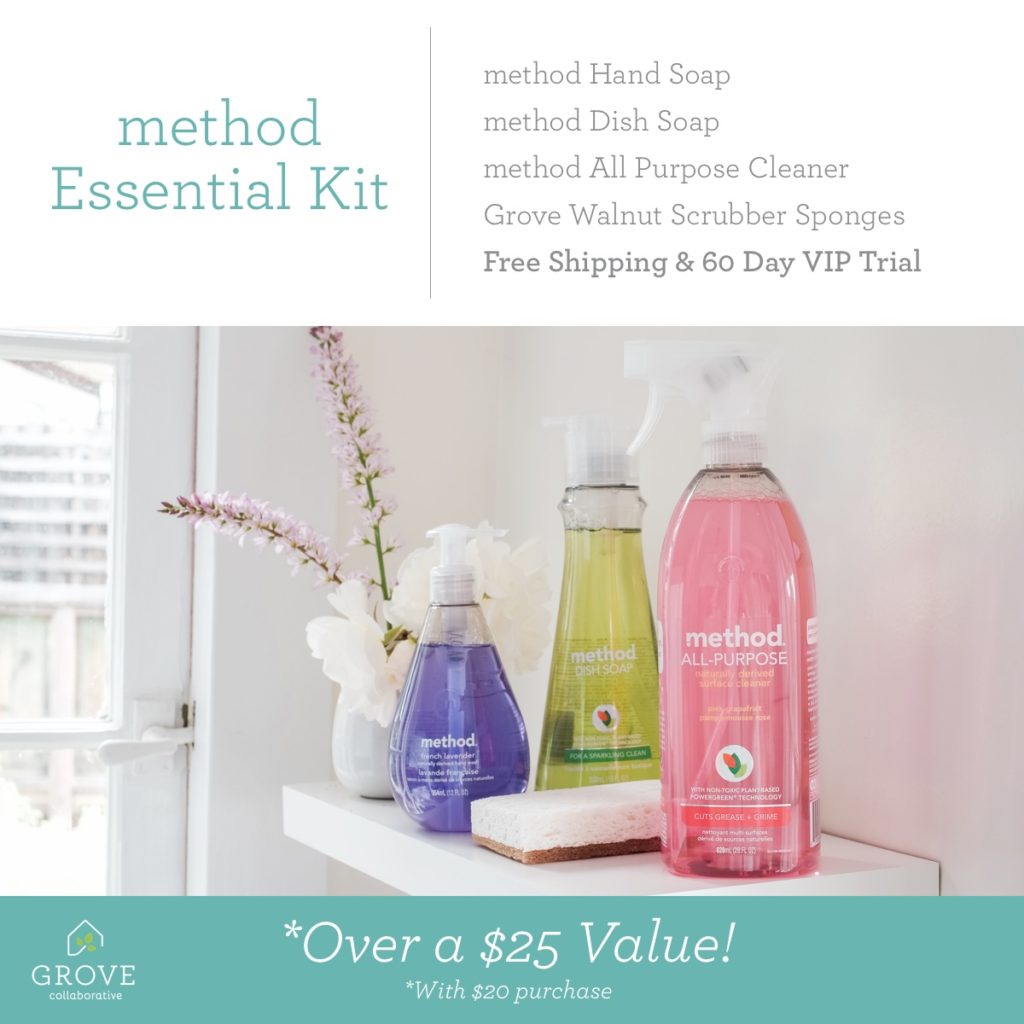 So Much Better With Age | How to Paint Over Brightly Colored Furniture
StoneGable | How to Use Salvage in Your Decor
Cedar Hill Farmhouse | How to Transition Your Home to a New Style
Designthusiasm | Setting a Table to Reflect Your French Country Style
Savvy Southern Style | French Country Breakfast Room
Shabbyfufu | DIY • How to Paint Wood Floors Like a Pro