What's in your tool box? I've got several that I love, and I'm sharing them with you today. Kelly and Yvonne are sharing theirs too.
You can listen in BELOW.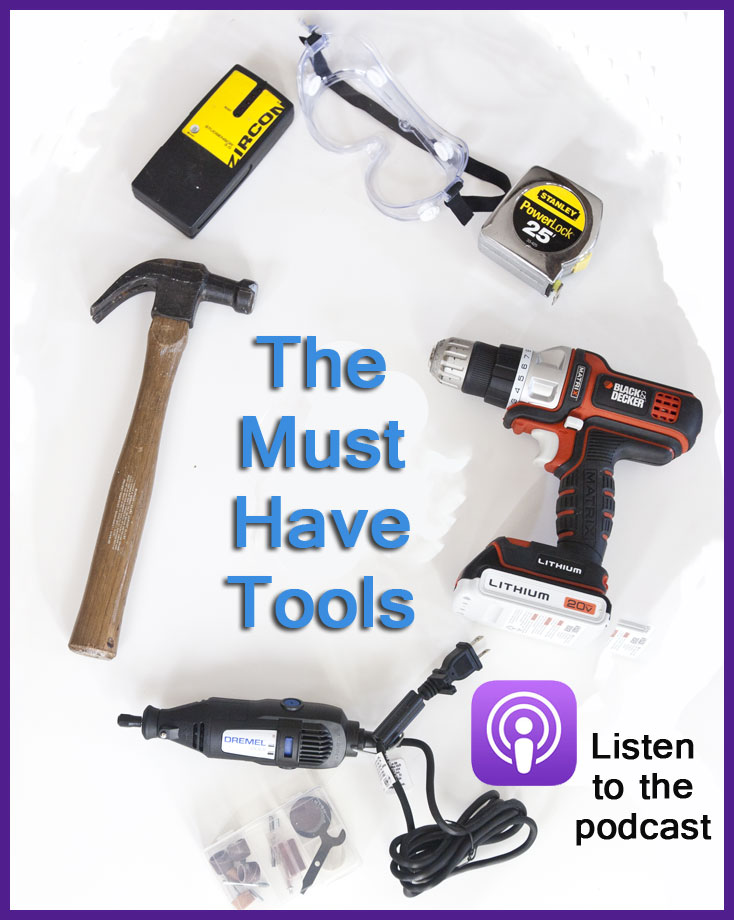 Of course you'll want to include the basics, screwdrivers, hammer, tape measure, pliers, and such. But there are a few more that we really love. This post contains affiliate links.
These are fabulous if you need to move furniture. I use these every time I move furniture! They are must haves for me. The set I have shown (and link to above) includes sliders for carpet and sliders for wood floors (works on carpet and linoleum also.)
No it won't help you find a man, but if you want to hang a mirror, you are going to want one. When I don't have one, I end up pounding on the wall, like I'm testing watermelons. I listen for the reverberation. If it sounds solid, there's your stud. But with the stud finder, it takes the guess work out.
I end up using these a lot. I use them more than the regular pliers. I use them for many of my crafty projects. I like that this set is extra long.
These are great for tying things together. Simply cut them when you need to remove them. Great for organizing cords or even Christmas lights.
What can I say? We use this a lot and it's super strong.
I have to admit I have one of these, but haven't used it yet. Yvonne swears by it. Guess I need to break mine out and get to it. There are many attachments and you can do a lot of things with them.
This is so needed, I can't imagine not having one. Be sure to get the variable speed drill if you plan to use it as an electric screw driver. This is the one I have and I love it. Variable torque is very helpful.
I use these every time I hang a picture. When you use the one with 3 nails, sometimes you can avoid using a wall anchor. I buy these in bulk.
Great for removing those pesky labels and stickers, wax and so much more. Kelly says it's a must have. I have to admit I don't have any in my house right now, but I'm headed over to Amazon to buy one for myself.
Frog tape comes in handy for so many things, including painting. I like to keep a supply handy.
I use this saw more than any other. It's a handy tool and great when you are not cutting a straight line.
GRIME BOSS PAINT REMOVER WIPES
Got paint on your hands? This does the trick. We love to use them to remove paint from our hands.