I'm picky, I know I am. And my pickiness goes beyond a linen blanket.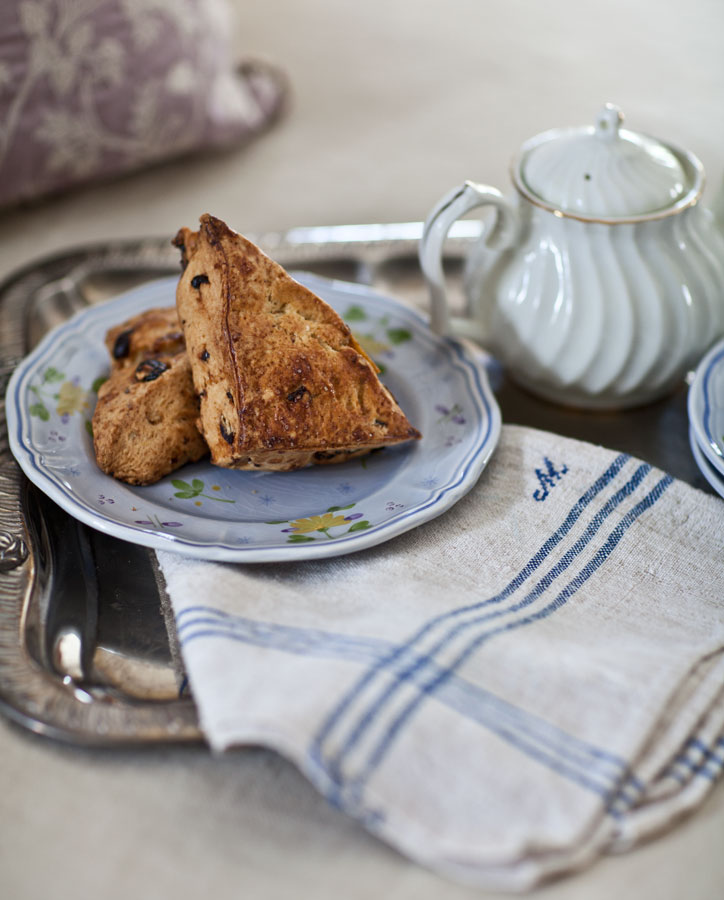 At church last Sunday, I was offered coffee and declined. I said I was a tea drinker. (I do like espresso, but not coffee, and yes I know that is weird. Coffee tastes bitter to me, but espresso although more caffeinated tastes smoother and less bitter.) I was asked if I was offended that they did not have a tea choice. I said, "Absolutely not! I'm picky, and that's my problem not yours." She said they could add tea to the coffee table. Then I felt I had to explain. As with the coffee thing, it's complicated. I drink green tea sweetened with stevia in the morning, from a nice cup with a matching saucer (my husband finally gets this part) and I use a silver spoon. I think it was the silver spoon that pushed it over the edge for her.  Sometimes it's just best to keep your thoughts to yourself. In my head it sounds normal, but when I say it out loud… Well she did ask.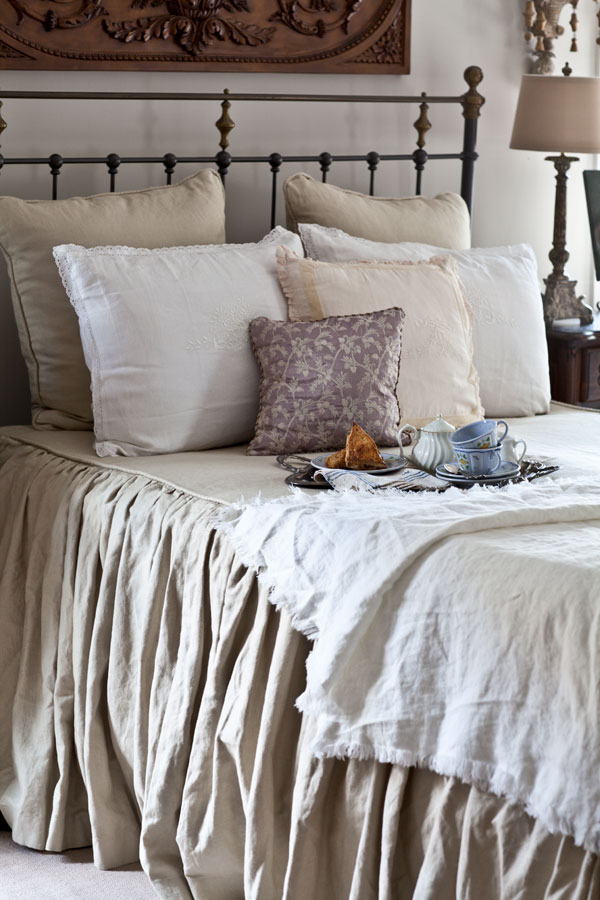 I'm even more picky about my bedding. I prefer linen because the fabric stays cool to the touch. When I make slipcovers or bedspreads, I almost always use linen.
I have been wanting a linen blanket for quite a while, so I was excited to try this one.
(The product was provided by the sponsor, and I want to be completely transparent with you. Technically speaking it's an ad, but it's also my honest experience with the product. I never write a sponsored post on something I could not honestly recommend to my mom or you. If I don't like a product I will tell you or refuse to do the post. For my full disclosure policy, click here.)
It was provided by Superior Custom Linens.  I was looking for something beautiful and functional. It needs to be a blanket that is thick enough that I don't feel the breeze from the ceiling fan under the blanket, but lightweight enough that I stay just the right temperature and not too hot.
This one passed the test. This linen blanket is officially my new favorite blanket. My husband even liked it, and he is all about the comfort. But also I love the look. Yes it is wrinkled, but I don't care. The wrinkles tell you it is really linen and not a synthetic. This is thicker than a sheet, but super soft. I did not iron the blanket so you could see what it is going to look like in use. I know some people hate wrinkles, and if you can't stand them, then linen is not for you. The bedspread is also linen and gets pretty wrinkled. I just smooth them out with my hand when I make the bed, and call it a day.
Back to my title, 'why you need a linen blanket' I think they are cooler in the summer, while still providing some warmth. In Texas, the summers are so hot, and most blankets seem too warm, even the cotton ones. This linen blanket was just right as far as temperature. Like linen sheets, I think a linen blanket is worth the expense. The other thing I'm going to throw out there is I have owned synthetic blankets that over time have crumbled into pieces. After that experience I decided I would not buy synthetic bedding again.
From a design standpoint, I love the fringe that goes all the way around the blanket. So here's the deal, you could use this as a bedspread or coverlet also. Just be sure that you have the right size so it covers your mattress on all sides. If you decide to use it as a coverlet, I think the 80″x98″ size would work very well on a twin bed. The link to this specific blanket is HERE. This is the 80″x98″ size shown on a queen size bed.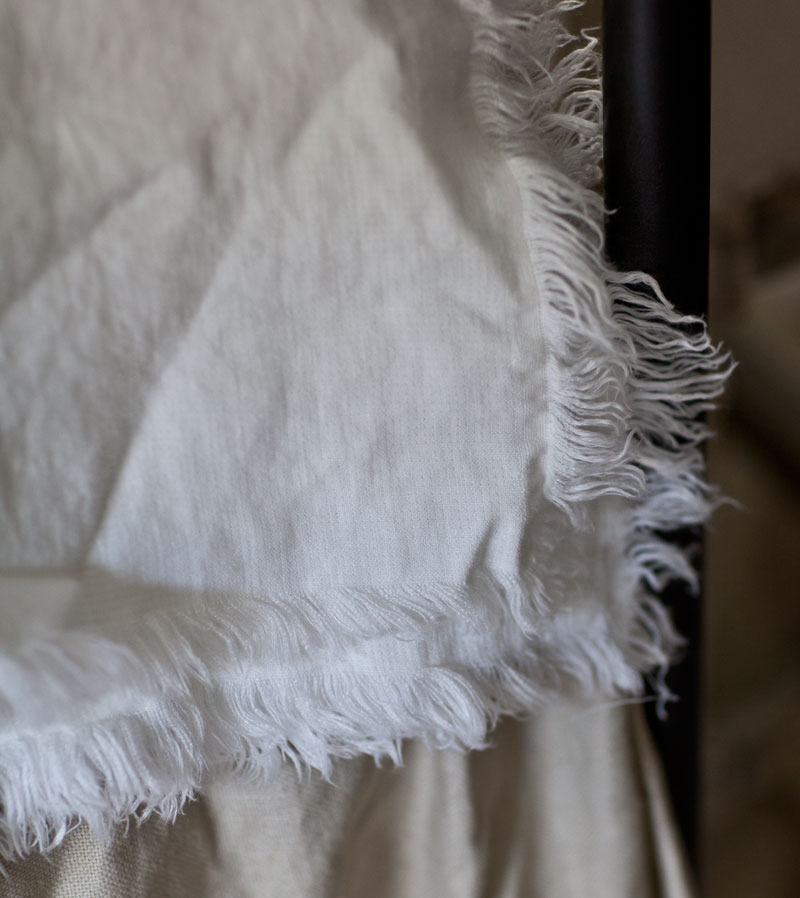 Now for the back story. My daughter Elise was in my room when I was photographing the bed. (She's the one with Down Syndrome.) She decided my floor needed to be cleaned. I asked her to move out of the frame. No reaction. I gently moved her out of the camera frame. She stepped back where she was, and kept photobombing. I tried to move the camera so she did not show in the shot. I was successful, but the mop she was using would go in and out of the frame like she was taunting me. I thought it was funny, so I included a photo of her mopping. As you can see her motto is "Pants are for suckers." If you look closely, you can see me in the mirror.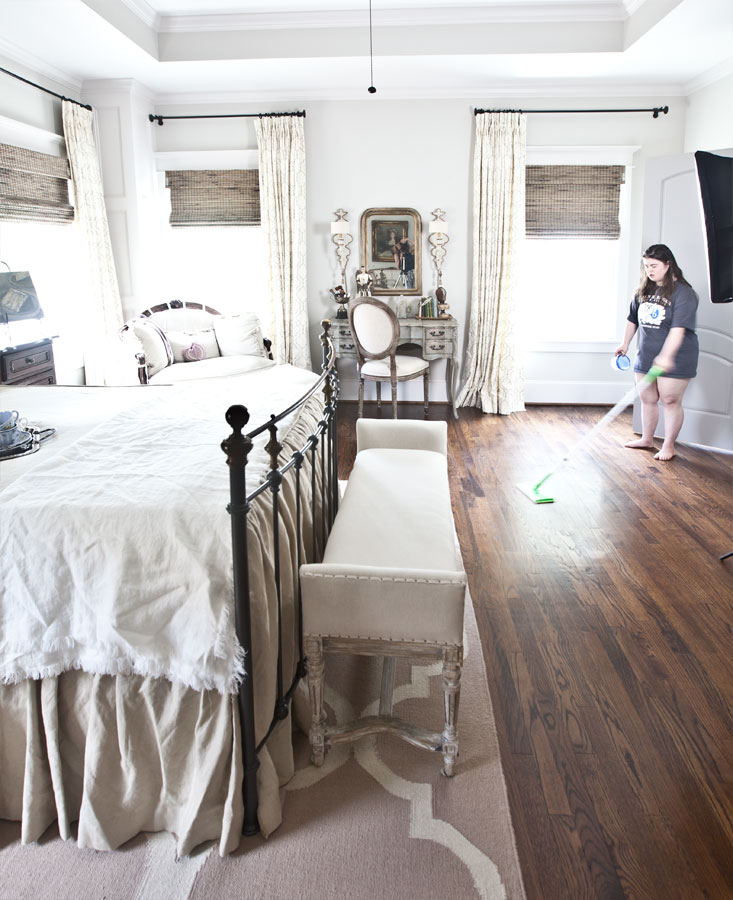 And this is how we really live.