Just humor me for a minute while I explain.
Below is the view from the new house.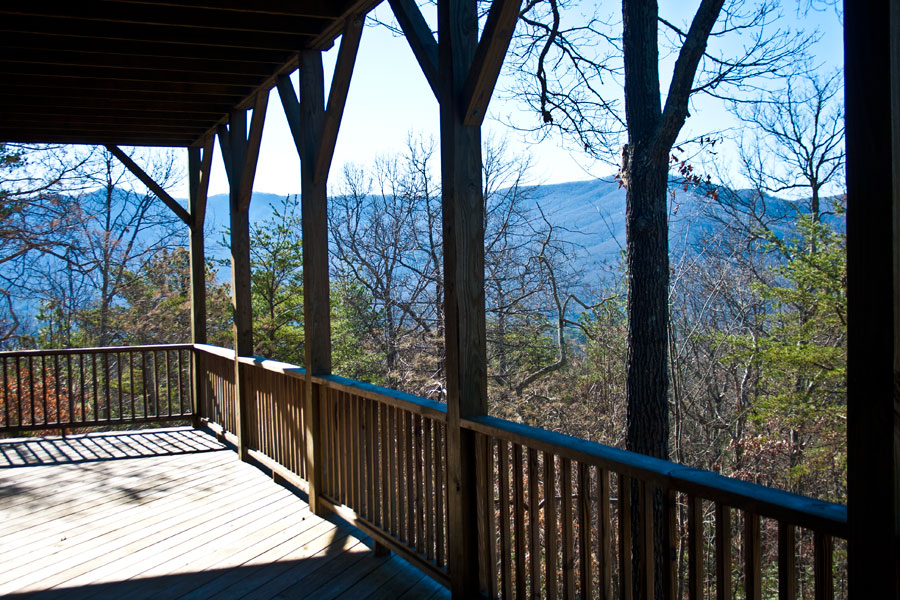 My father unbeknownst to me had always dreamed of moving back to the small town where he is from in Oklahoma. When he and my mom finally bought the farm, I wondered why on earth he would possibly want to leave Dallas for a farm in the middle of nowhere. But there it was. He loved the fresh air and the small town pace of life. He said he was tired of looking at the back of someone else's fence. When I saw his cranky personality turn downright giddy as he talked about the farm, I began to understand. The sad thing is that he never got to live at his dream farm. I think for years he wanted to move, but my mom did not. He bought it too late. The week before they were to move, he died of a massive heart attack.
Then I think of my father in law who loved the mountains so dearly. He and my mother in law had a place in the mountains of NC for about 40 years. He too had a dream. He dreamed of living there in the summers, but that too never happened. They would stay there for a few weeks each summer, but my mother in law just couldn't get on board with the extended stay he dreamed of. Below is a photo of the deck on at their house.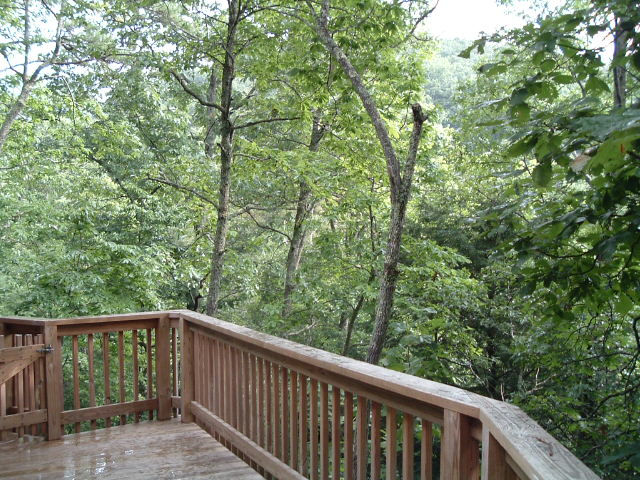 Mr. CH too has had a dream as long as I have known him. He has always wanted to live in the mountains of NC during the summers and then winter in Texas. I knew that going into this marriage 33 years ago.
When he inherited his parents' place in NC, we looked at it long and hard. Do we keep it or sell it? It seemed like too much for me to take care of. It was crazy expensive to own a house we barely used. I told Mr. CH I would make it work if he wanted to keep it, but it wasn't something I was excited about. I was fine with the idea of living there in the summers after retirement, but not so crazy about that house. The kitchen is shown below. You can see it was not a fancy place.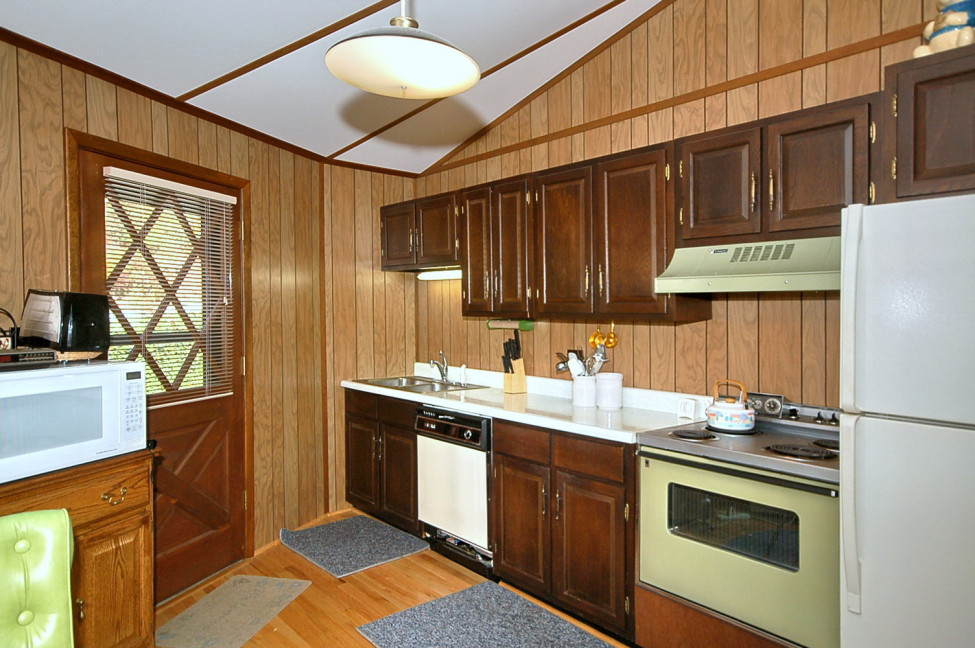 He said that he didn't care to keep that house, so we sold it. I think he had too many memories there of his parents. But I knew we would buy another house one day. I kept a lot of the kitchen supplies, just in case. Most of the furniture we just gave to the new owners. (Not sure if they appreciated it!) I decided we could figure it out later, much later. I got busy with my life. I thought maybe he had changed his mind, and in some ways hoped he had, because I just didn't have the time to deal with it. But then I began to think about how this man has supported me as I have followed my dream and my passion of interior design. This blog, the social media, my online shop, the book, have all taken up so much of my time. I began to think of my dad and his dad, and how they never realized their dreams. I know how happy I am to be living my dream every day, and so how can I deny him of his dream? I began to think about what I wanted in life.
I began to be honest with myself. What do I want in life? Am I happy with my day to day life? It just is too hectic for me to enjoy right now. What do I want? I want more time with family and friends and less time on my computer. I have done some serious soul searching in the last few months. Where do I want to be when Mr. CH retires? I decided that I also want to live at least part of the year in NC, even if that means giving up our current city house at some point. I'm not sure what all this means, but I'll figure that out later. I don't want to wake up one day only to realize I kept my husband from realizing his dream. I also don't want to wake up and realize I have accomplished a big business goal, but have no time to enjoy life.
I just don't want my tombstone to read,
She didn't have time for family or friends, but she had a million pageviews a month.
And the scary thing is my life has been headed in that direction.
And so I began keeping my eyes open for homes in Black Mountain, NC, where his family place was. I just couldn't find anything that I liked in our budget.
And then we found this house. It's close to town and has stunning views. Inside pretty much nothing is to my tastes. We won't be there much of the year right now, but we figure we can use it as a vacation rental to mitigate much of the expenses. There is a fabulous property management company in town that takes care of vacation rental homes and we will probably use them. That will take most of the burden off my shoulders.
Is the house my dream house? Well let's say it's a blank canvas. It's pretty much a plain vanilla house. It has the views and closeness to town we adore. But otherwise, it is nothing fancy. But the views….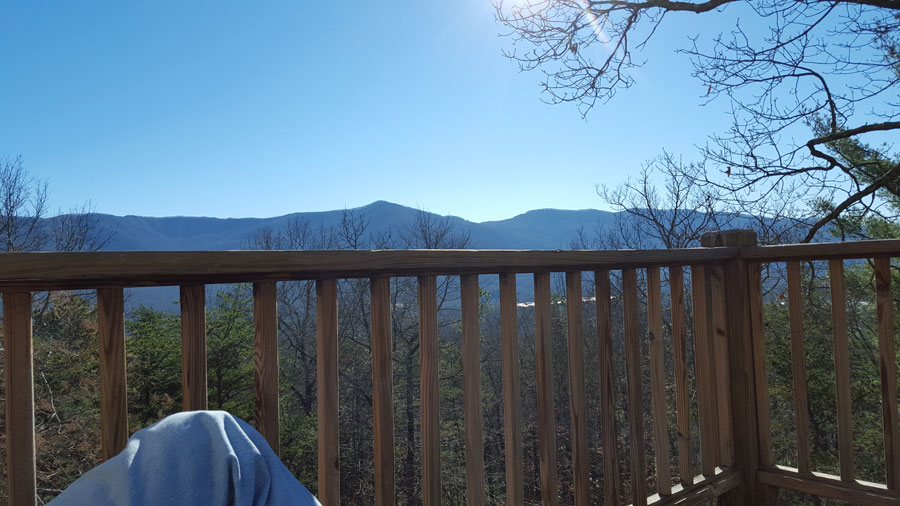 Do we have a well thought out plan for the future. Not really. I expect we will figure out where we want to be when the time comes and we will know what to keep and what to sell.
Did I mention the views?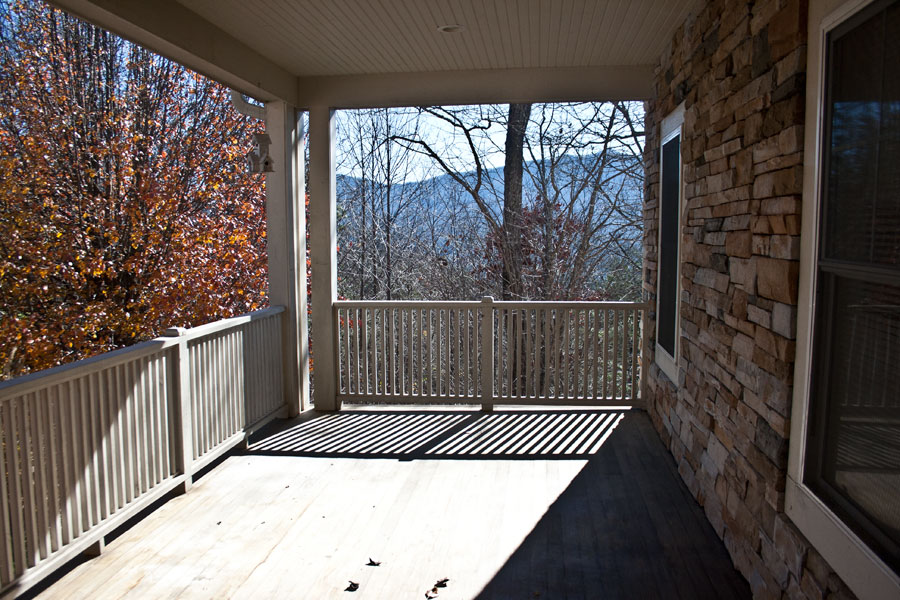 I have learned to have a high tolerance for the unknowns in life. I trust God, and then step out in faith. I have found that God sometimes knows what He is doing. Okay, He ALWAYS knows what He is doing. So when I felt it was time to buy this place we did. It honestly doesn't seem to make complete sense to me, but I know it will work out.
So what's in this for you?
I know we bloggers say 'Big exciting news' and the big news is… we bought a new sofa or table, and you think
'Really?'
'Why exactly do I care?'
Well, I'll be sharing the process and hopefully as I learn things you'll find something informational here. I will be decorating a house someone else designed. It has golden oak cabinets, carpet, Formica counter-tops, a coil top electric stove, and light fixtures I didn't select.  I know that many of you are faced with the same decorating challenges. We will be doing everything on a budget. Here is the kitchen as it currently is. Pretty standard issue, right?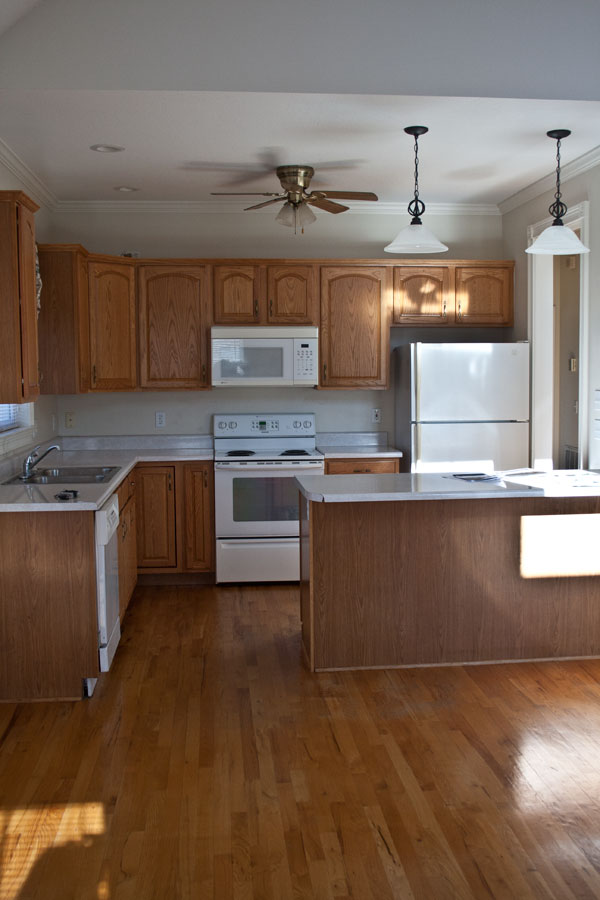 How will I figure out what to put in the house? How will I get it there? What am I going to do with that kitchen? How will I find good contractors? What is it going to be like handling most of this from out of state? How is it going to be dealing having renters in the house?  How much is all of this going to cost? How much renovation should I do now? How much should I put off until later? Should I do much renovation while we are renting it? Will it be worth all of the hassle? How am I going to find furniture I like that will hold up to kids, dogs and guests that aren't as careful as I am? Will I regret this decision? How do you put a plan together to decorate a house start to finish? Don't you wonder how it is going to work out? I know I do.
Here's the master bath. I guess the good news for me is that brass is back in style, ha!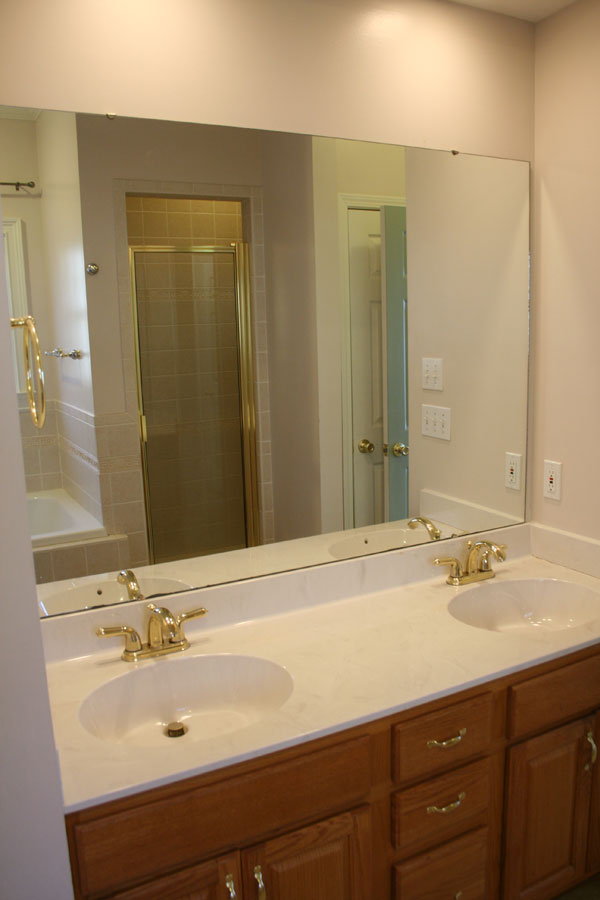 So to summarize, I will have a limited budget and massive work to do. I can't do much of the work myself, since I will be out of state. Do I have faith it will work out.
I do!
Although I have NO IDEA how that will happen. See? FAITH in action.
I'll be sharing all of my mistakes and discoveries with you. From furniture selection to remodeling, dealing with contractors, finding artwork, upholstering furniture, selecting mattresses, you name it. And I have to have it ready to go for rentals this summer. I think I need a nap.