I love having company on my back porch. And although most of these bloggers haven't literally been on my back porch, I still enjoy our virtual chats.  Here is a dear, sweet friend Shirley of HousepitalityDesigns.  
I am so thrilled and excited to be here today . . .
To be on the "Back Porch" of Anita's gorgeous farmhouse.
Hello Cedar Hill Farmhouse readers . . .
My name is Shirley and I blog at Housepitality Designs.
If not doing things in my home, activities in my community, being at the ballpark . . .
~ ~ enjoying time with friends and family . . or blogging . . .
~ ~ ~ ~ you will find me riding around town with my granddaughter with the top down!
Don't you love selfies?…as the pictures are reversed and looks like my "sweetie" is driving!
And here is "my back porch" . . . a bit of a veranda of sorts.
With white rockers and hanging ferns.
A true Southern tradition.
And another one that is located just above the lower porch.
So on to the questions that Anita presented for me to answer.
1. Why did you start a blog?
Several years ago, my son saw me emailing picture after picture of my Christmas decor . .
~ ~ to my family and friends.
I have been on Christmas home tours in Florida and here in N.C.
He said, it would be easier to place them on a blog . .
~ ~ that way all they have to do is subscribe and see all of your photos.
What is a blog???, I asked . . . . He rolled his eyes and proceeded to show me.
I was hooked . . . I studied some of my favorites and then took the plunge.
2. What was the most exciting thing that has happened to you because of your blog?
Many things . . . like a photo shoot of my home for an upcoming magazine feature.
With the greatest, most talented crew!
Or, having companies like Pottery Barn ask if they could place a photo . . .
~ ~ of my mantel on their blog…pinch me!!
It was the simplest of mantel vignettes I have done. Go figure!
With all of that . . . one of the best things . . .
~ ~ is "meeting" the most wonderful people from all over the country.
Establishing the greatest of friendships whether by actually meeting . . .
~ ~ or by being great supporters . . and PEN PALS!!
That's simply amazing to me.
3. What is your dream gig or do you already have it?
Other than being a grandmother to the most incredible little girl in the world . . .
I would also say the period of time when I worked as certified re-designer and home stager.
To go into someone's home and enhance its interiors by using what they have . . .
~ ~ and seeing the look of joy on their faces when they come home to their "new space".
Now that is a feeling of great accomplishment and happiness of helping people.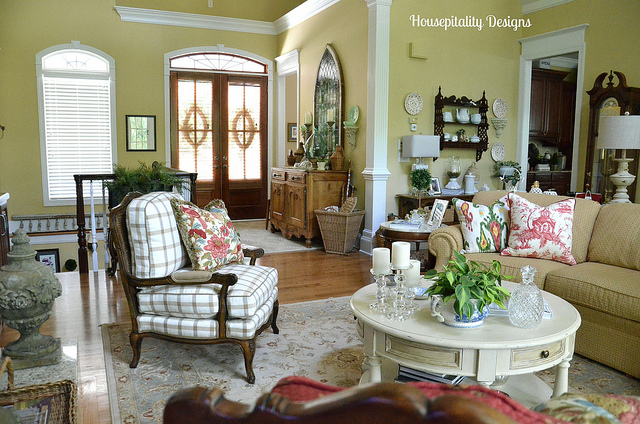 Other than the aforementioned, I dream about shadowing for a day . . .
~ ~ with a great designer, say, like Sarah Richardson.
To actually see them in action. . .in person. . .
~ ~ and meeting that "Tommy" would be a bonus! He cracks me up!
Now that would be the coolest!
4. What are a few things that readers would be surprised to find out about you?
Wow . . . that is a good one.
— I am half Japanese and half Scotch/Irish . . . my parents met after World War II.
I am a "Daughter of the American Revolution" . . I could not believe it when I found out.
My great-great-great and maybe another great grandfather fought in the Revolutionary War.
After the war, he purchased land from Patrick Henry.
Oh darn I was hoping it was from Ethan Allen!!!
I have known my hubby since the 2nd Grade … We sat next to each other in many classes. .
~ ~ as alphabetically, our last names started with "STAN" . .
I am a "creature of habit"
~ ~ I am an early riser . .
As who can resist seeing this spectacular sky from my back porch . . .
~ ~ bundled up with a hot cup of coffee. The sunrises in the winter are simply amazing.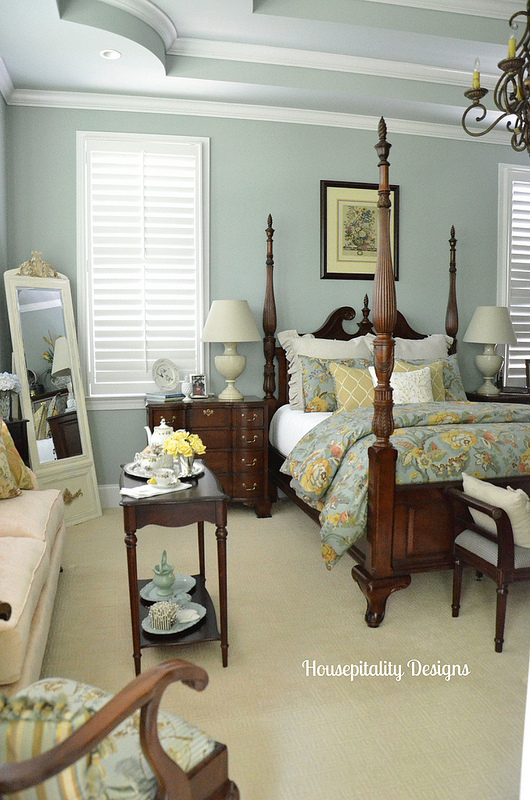 I must make my bed after my first cup of coffee (and I drink a full pot of it by 10am!)
Does being married for 44 years make me a creature of habit?!!
I told you we knew each other since the 2nd grade . . so we were married at 7 years old . .
~ ~ give or take a few years!!
I love anything monogrammed . . . In high school, I even had my "Weejuns" monogrammed!
And for all of you "young folk" out there, Weejuns were loafers made by Bass Shoes.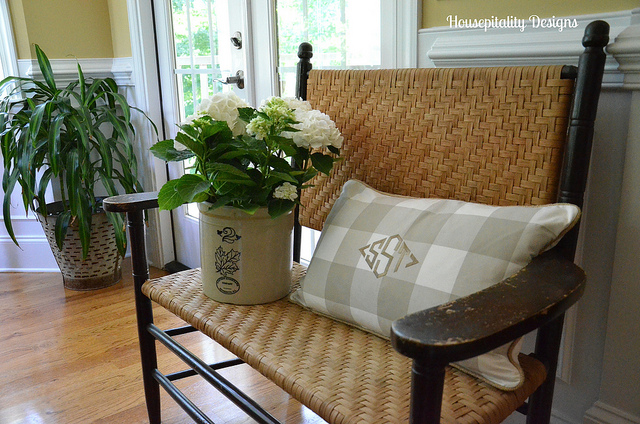 Vintage items and monograms . . what could be better?!
5. How would you describe your style?
Oh my goodness . . . is there a decorating style term for "Whatever Suits Your Fancy"?
Or, "A little bit Country . . and a little bit Rock and Roll". . .
~ ~ with a touch of the South . . the U.S. and France that is!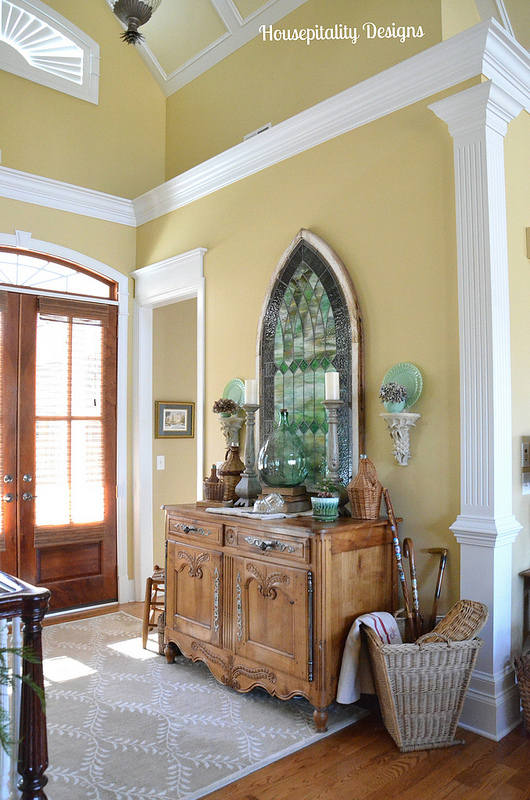 As a teenager, I dreamed of a home filled with Ethan Allen furnishings and beautiful antiques.
My friends bought Seventeen magazines . . . I bought Better Homes and Gardens.
One of my first "official dates" with my then "future hubby"
~ ~ was strolling through the aisles of an Ethan Allen store.
I knew he was a "keeper" when he did not run out of the showroom screaming!
We still have our very first set of furniture we purchased there as newlyweds.
6. What are your top 3 favorite posts?
OK…this is not my favorite . . but the most viewed…
~ ~ would you believe it was my hubby's garage!!…go figure!! . . yes his garage!
For more of "where husbands do not want their wives to go" view here.
The second one is a sentimental post. . .
~ A letter to my grandmother I never met and to thank her for appearing in my mother's dream . .
~ ~ telling her go and meet that G.I. at the bridge.
And the third is probably the post I wrote 2 1/2 years ago when I introduced my antique wood and iron shutters . . .
~ ~ that took 4 men to hang over my mantel and the story behind those shutters.
7. What advice would you give new bloggers?
Oh gosh . . . I have seen this question answered by many fellow bloggers.
Answers like "be yourself" . . . "do not compare yourself to others" . . . and more.
These are great pieces of advice.
My advice . . . just have fun with it. Don't take things so seriously .
No one or blog is perfect . . . and we cannot be or do everything.
Keep it fun and learn to laugh at yourself . . .
~ ~ laugh when you realize that the little blue thing in the corner . . .
~ ~ ~ ~ of the photo that you just posted is the swiffer you were using to dust that shelf.
Or the reflection in the glass of the photo is you in your PJ's . .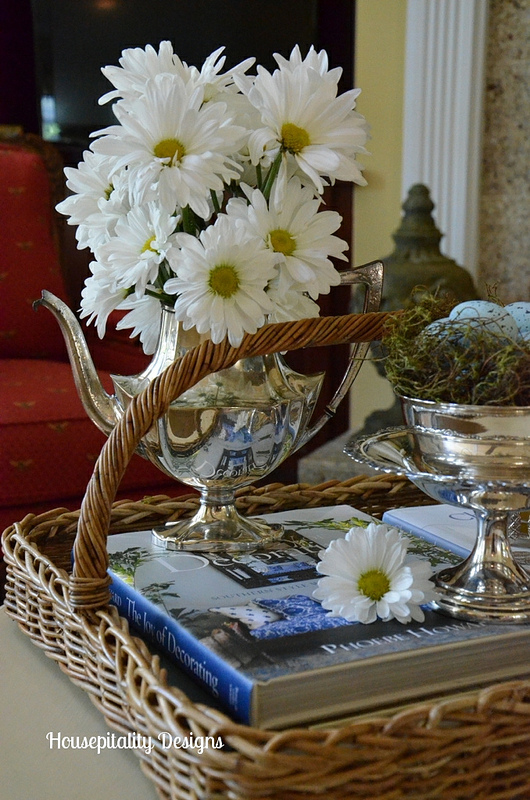 For most of all . . . the opportunity of getting to know so many amazing people . . .
~ ~ and the great friendships you gather is the absolute best!!!
And at the end of the day, you smile and know you are blessed to be a part of "Blogland".
Thanks again Anita for inviting me to "sit a spell" on your amazing "Back Porch".