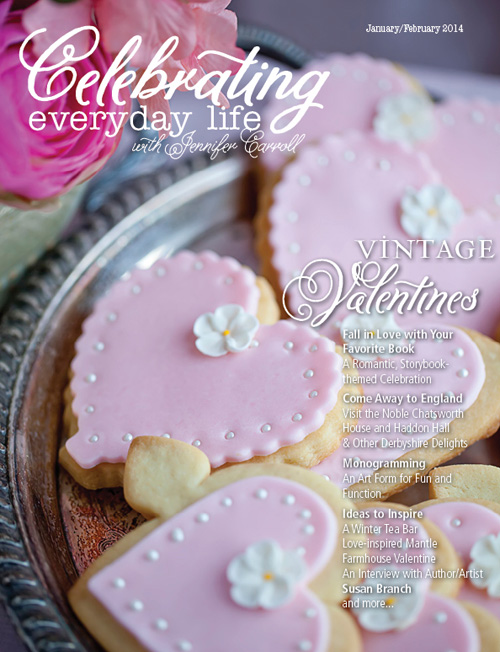 I'm excited to announce I am a contributor for Celebrating Everyday Life magazine.
I hope you head over to Celebrating Everyday Life to see this truly beautiful publication.  You won't be disappointed.  This was fun to set up this shoot for the magazine. I actually had to shoot it at a friend's house since well, oh that's a surprise and I can't tell you that yet.  🙂
We have some changes coming next month to the scoop. We will no longer have a guest host, in an effort to streamline the post. It has gotten so long, and we want to get it short and sweet.  So that's coming, but we have commitments to guest hosts for this month and we will be honoring those.
We have our home tour coming up next week, Creating a cozy home. Yikes, that reminds me, I need to go take some photos.  Well I'm not going to leave just yet, the party is just getting started!!
So did you notice this is The Scoop #100?
It all began with Amanda, Samantha, Linsey and me with a little party we called Cowgirl Up.  Ours was the first mulit-blog weekly party as far as I am aware.  At some point we decided to change the name of the party to'The Scoop' since the whole cowgirl theme seemed to throw some people for a loop. Since then Amanda stopped blogging so she left the scoop, then Linsey and Samantha left the scoop in an effort to cut back on time spent blogging.  (If you are not a blogger you are probably not aware of just how time consuming this venture is.)  Over time, some of the faces have changed but our mission to provide a fun place to party hasn't.
To celebrate we have teamed up with DECOR STEALS to provide a $100 Decor Steals gift card for one lucky winner. The giveaway is at the end of the post.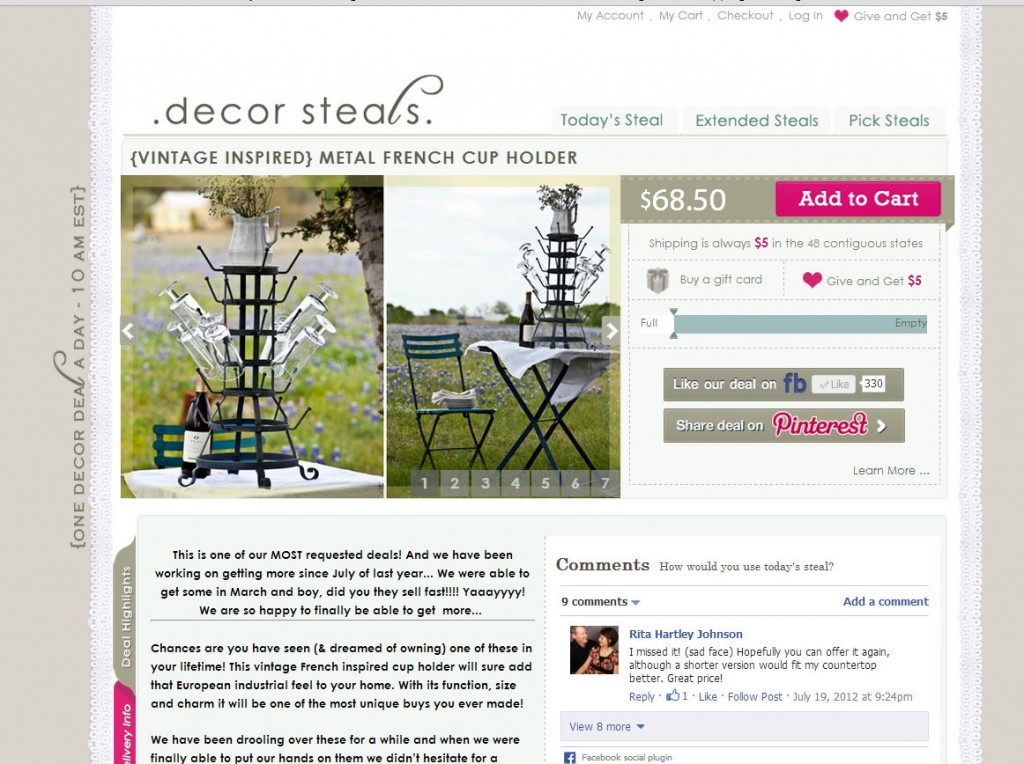 The giveaway is for a $100 Decor Steals gift certificate not the cup rack.  What? Did I accidentally use a Decor Steals screenshot when they used my photos?  Good heavens, how did that happen? Hee hee
Happy New Year, everyone!
It's my pleasure to be your host for The Scoop Link Party #100!  How appropriate that this 100th party is the first one of the new year.
To celebrate this milestone with us, Decor Steals is giving away $100 worth of product!  Decor Steals features daily home decor and vintage reproduction sales events of up to 80% off retail.  Sign up to receive their daily emails so that you don't miss a thing
You'll find the entry form and requirements down below.
A lot of my time last week was spent looking back at popular DIY Tutorials, Makeover Reveals and Recipes.  And I also spent some time planning for 2014.  I can't wait to share all that I'll be doing in the coming year!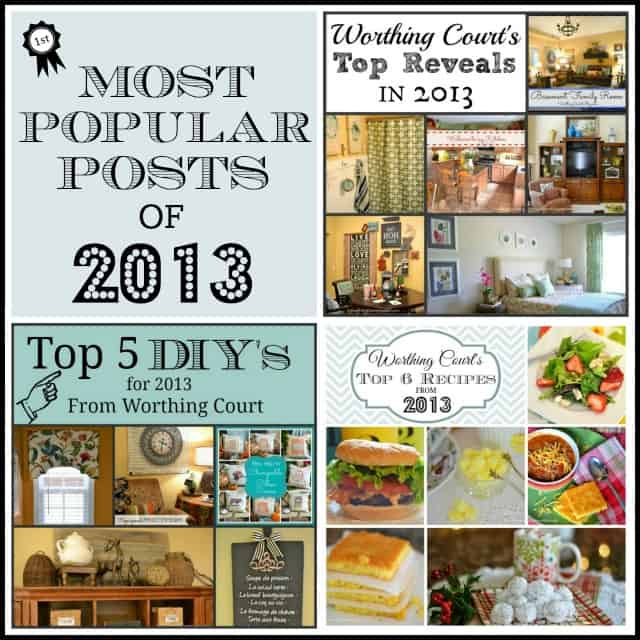 I'm pleased to introduce Dria, who is our guest host this week.  Dria blogs at DIO Home Improvements, a blog filled with DIY projects, crafts and home improvements.
~ ~ ~ ~ ~

Hi! My name is Dria and I blog over at Dio Home Improvements! It is such an honor to be here today especially with it being the 100th scoop!!! The scoop about me is I'm a home improvement, craft and DIY junkie. I love molding and currently have only two rooms left in my house that I haven't added some sort of wall molding to! My favorite part of DIY is finding ways to get the look I want with the least amount of money spent!
Here are my favorite pics from the 99th scoop! It wasn't easy to limit my favorites that's for sure!
Christina from Remodelando la casa what she's done with her kitchen is outstanding and my style all the way!
Next up is
Hymns & Verses
This door has been displayed in so many different ways it's stunning!!
I Love how
Faded Charm Cottage
decorates and this entry way is so beautiful! Makes me wish I had a real entry way, that's for sure!
Create Inspire Me
did an amazing job on this vanity. I would Love to put this in my bedroom!
These DIY Signs by
The Turquoise Home
are awesome. I am definitely keeping these in mind for this summer!
And last but not least is Uncommon Designs. These candle holders are so elegant and how easy to do! I Love easy projects!!
Thank you so much for inviting me to be the Guest Host this week. It is a fantastic way to start my year off!!
~ ~ ~ ~ ~
Thank you for hosting with us this week Dria!
Before we get on to the party, you'll want to take time to enter the $100 giveaway from Decor Steals!
This giveaway is open to residents of the contiguous 48 states of the USA.
Each of the below actions will gain you 1 entry.  You are only required to complete one, but the more you complete, the more chances to win!
Welcome back to The Scoop
The weekly linky party featuring
the scoop
on the 
best posts from around the web!
More exposure + less time = win win!
We are:  
Anita from Cedar Hill Farmhouse 
Debbie from Confessions Of A Plate Addict 
Barb from The Everyday Home
Yvonne from Stone Gable
Suzy from Worthing Court       
Please read the guidelines before participating:     Follow and/or subscribe to your host's blog.  
Be sure to include THE SCOOP button or text link in your linked post…mandatory to be featured!
By linking up you are agreeing that the photos are yours or that you have permission to use them, that we may use those photos to feature your project on a blog post, Facebook, Pinterest, or Twitter with a link back to your blog, of course.
Please go to the source of a photo to pin it to Pinterest so that the originator of the post gets the credit.